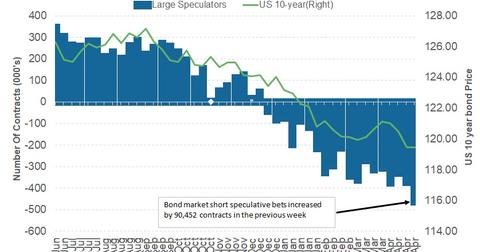 Analyzing the Bond Market This Week
By Ricky Cove

Updated
Bond market yields
US bond markets were the main focus in a week dominated by earnings. In the previous week, the US ten-year bond yield broke above 3% for the first time in four years. Last week's reports on the first-quarter GDP and the Employee Cost Index signaled that the Fed could increase rates three times this year, which pushed bond yields higher. By the end of the week, the yield retreated from the higher levels. The euphoria around the 3% mark seems to be declining. Whether the yield is at 3%, 2.96%, 3.1%, the overall trend is important. The trend seems to be tilted towards higher yields. The Vanguard Total Bond Market (BND) ETF, which tracks bond markets' performance, ended the previous week at 79.01. BND depreciating 0.01% for the week ending April 27.
Article continues below advertisement
Bond market performance and speculator positions
For the week ending April 27, the ten-year (IEF) yield closed at 3% and depreciated by 1 basis point. The two-year yield (SHY) closed at 2.5%—up by 2 basis points. The longer term 30-year yield (TLT) closed at 3.1%—down by 2 basis points. The change in yields last week flattened the yield curve more.
According to the latest Commitment of Traders report released on April 27 by the Chicago Futures Trading Commission, speculators' short positions increased last week. The total net bearish positions as of April 24 increased by 90,452 contracts from 371,681 contracts to 462,133 contracts.
This week
This week is important for bond markets (BSV). Reports are scheduled for inflation, personal income, and non-farm payrolls. The FOMC meeting is also scheduled this week. The FOMC isn't expected to take any action at this meeting. However, FOMC members' observations on economic progress and this week's data will set the stage for a June rate hike. Positive data could push yields higher. However, euphoria around the 3% yield will likely decrease. Markets have started to accept rates rising slowly.