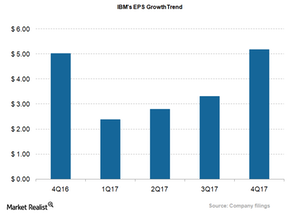 Analyzing IBM's 6 Key Value Drivers
By Aaron Hemsworth

Apr. 22 2018, Updated 9:00 a.m. ET
How are the value drivers helping bottom-line growth?
In a bid to enhance its service quality as well as to remain competitive, International Business Machines (IBM) has deployed six key strategies. The successful implementation of these strategies may help the company expand its market share.
IBM's first key driver which IBM is offering value to its customers by delivering the technological platforms required to expand its market presence. The company's cloud platform is already widely used in the industry on a global basis.
The company's next goal of being the first mover in technical fields such as blockchain, IBM Z mainframe with z14 microprocessors, analytics, and AI (artificial intelligence) helps strengthen its market presence.
We can see from the chart above that growth in business, buoyed by these catalysts, is driving the company's bottom line. In the last five quarters, IBM's EPS (earnings per share) grew at a CAGR (compound annual growth rate) of 0.8%.
Article continues below advertisement
Other value drivers
IBM's third key factor is its Cognitive Solution unit, which includes blockchain and Hyperledger Fabric technology. It also includes Watson AI, and IoT (Internet of Things). Walmart (WMT) and JPMorgan Chase (JPM) are among the companies already using these technologies.
The fourth key element is its leadership position in high-value emerging segments such as the security market, in which IBM dominates with 6,000 clients. The fifth growth factor is the company's huge investment in research and development, which we discussed in the previous article. 
The final value driver is IBM's IT and Application Outsourcing business, in which the company enjoys market leadership with products and services such as Application Management performance, which is driven by traditional ERP and consulting.