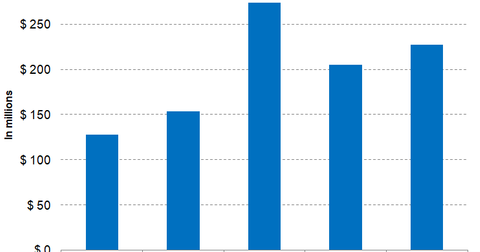 An In- Depth Look at Intercept Pharmaceuticals' Ocaliva
By Kenneth Smith

Apr. 6 2018, Updated 8:04 a.m. ET
Ocaliva
Ocaliva is a bile acid analog that selectively binds to and activates the farnesoid X receptor. Intercept Pharmaceuticals (ICPT) believes Ocaliva has broad liver protective properties and can effectively counter various chronic insults to the liver that cause fibrosis and can ultimately lead to cirrhosis, liver transplant, or death.
Ocaliva received conditional approval from the European Commission in December 2016 for the treatment of PBC (primary biliary cholangitis) and was launched in January 2017. The drug was commercially launched in Canada in July 2017.
Article continues below advertisement
Development strategy for Ocaliva
Intercept Pharmaceuticals is evaluating a development strategy for Ocaliva in other indications, including non-viral progressive liver diseases such as nonalcoholic steatohepatitis (or NASH), primary sclerosing cholangitis (or PSC), and biliary atresia.
Intercept Pharmaceuticals is currently conducting a Phase 3 clinical trial in non-cirrhotic NASH patients with liver fibrosis. This REGENERATE trial includes a pre-planned histology-based interim analysis after 72 weeks of treatment. The company expects top-line results from the interim analysis in the first half of fiscal 2019.
Intercept Pharmaceuticals is also expanding its overall NASH development program with additional trials and studies that include its ongoing Phase 3 trial with NASH patients who have compensated cirrhosis.
In addition to PBC and NASH, Intercept Pharmaceuticals continues to invest in research of Ocaliva targeted at additional patient populations with other liver diseases. In July 2017, Intercept Pharmaceuticals announced top-line results of its Phase 2 AESOP trial in PSC that compared the effects of varying doses of Ocaliva with a placebo after 24 weeks of treatment.
Ocaliva has received orphan drug designation in the United States and the European Union for treating PBC and PSC. The drug has also received breakthrough therapy designation from the FDA for treating NASH patients with liver fibrosis.
In the next part of this series, we'll take a look at Intercept Pharmaceuticals' financial performance.