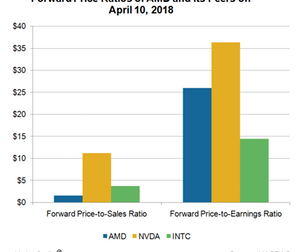 AMD Stock's Fall Has a Silver Lining for Value Investors
By Puja Tayal

Updated
Value investors and AMD 
Advanced Micro Devices (AMD) stock is moving in a downtrend near its 52-week low of $9.04 despite posting double-digit revenue growth and turning from losses to profits. 
One argument that justifies the stock's poor performance is that it moved from $2 to $15 in 2016 and early 2017 on the anticipation of strong growth. This movement made AMD expensive for value investors, who look at a company's fundamentals, such as revenue and price. Hence, speculators and traders took the stage, and value investors backed off from taking a position in AMD.
Article continues below advertisement
Price-to-sales ratio
In 2016 and 2017, AMD aimed to gain market share from Intel (INTC) and NVIDIA (NVDA) by boosting its sales. It adopted the strategy of delivering better performance at a lower price. Considering the company's focus, a better way to value it is through the PS (price-to-sales) ratio, which shows how much investors are willing to pay for every dollar of a company's sales.
AMD had a forward PS ratio of 1.5x on April 10, 2018, compared to Intel's and NVIDIA's ratios of 3.7x and 11.2x, respectively. This ratio is based on analysts' estimate of 18% YoY (year-over-year) growth in AMD's sales and 27.4% YoY growth in NVIDIA's sales in 2018. NVIDIA's PS ratio is more than double AMD's PS ratio for 10% extra revenue growth.
This shows that NVIDIA has already priced in its future sales growth, whereas AMD has not, making it an attractive stock for value investors.
Price-to-earnings ratio
In 2018, AMD shifted its focus toward profitability. It plans to roll out high-end computing products that earn higher margins. This makes its PE (price-to-earnings ratio) important. In 2016 and 2017, AMD had a negative PE, as it reported losses. Now that it's returned to profits, its PE ratio has become a good measure of its valuation.
AMD had a forward PE ratio of 26x on April 10, 2018, indicating that investors were willing to pay 26x per dollar of its EPS (earnings per share). However, this ratio was lower than NVIDIA's 36.3x and the industry average of ~28x. Even AMD's PE shows that it has an attractive valuation compared to NVIDIA.
NVIDIA has better fundamentals and a better growth rate than AMD, but the former is trading at a premium valuation—which means that any negative news would likely send the stock crashing down. For instance, NVIDIA stock fell 7.8% on March 27, 2018, when it temporarily stopped testing self-driving cars in the wake of a fatal Uber accident.
Although price ratios also don't value AMD at more than $15.0, its dip to $9.8 creates an attractive valuation, as it has strong growth potential. What makes AMD even more attractive is its comparative valuation. The stock appears to be cheaply valued compared to its peers.
Check out all the data we have added to our quote pages. Now you can get a valuation snapshot, earnings and revenue estimates, and historical data as well as dividend info. Take a look!