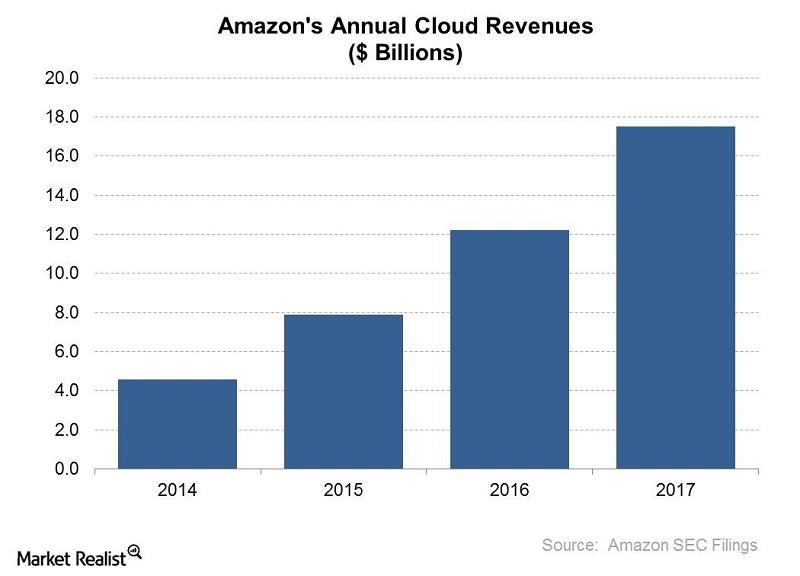 Amazon's AWS Could Be a $60 Billion Business in 5 Years
The gold standard for cloud buyers
According to analysts, Amazon's (AMZN) cloud computing business, Amazon Web Services (or AWS), could more than triple in size in the next five years. In a recent research note to clients cited by Barron's, analyst Brent Thill of Jefferies wrote that AWS could hit $60.0 billion in annual revenues in five years. According to Thill, AWS "has become the gold standard for millions of customers" in cloud computing. The analyst noted that companies of all sizes are moving their workloads to AWS and that AWS is building a reputation that should help fuel further growth.
Article continues below advertisement
Cloud business produced a $4.3 billion profit
AWS generated $17.5 billion in revenues in 2017. The cloud computing business produced $4.3 billion in operating profits, eclipsing the $2.8 billion operating profit from Amazon's core North America retail business.
In January, Comcast (CMCSA) selected AWS as the preferred cloud provider for its cable division. Amazon's other recent cloud customer wins include Shutterfly (SFLY), GoDaddy (GDDY), and Cox Automotive, which it said are committing their businesses to AWS.
AWS faces fierce competition
Even with the customer wins and a comfortable lead in the global cloud market, AWS is under pressure to guard against the competition. Spotify (SPOT), once a prominent AWS customer, seems to have taken part of its cloud business to Google (GOOGL). Snap (SNAP), which runs the Snapchat app, is also spending more on Google than Amazon for its cloud computing services.