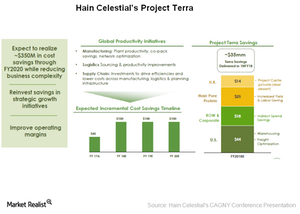 A Look at Hain Celestial's Margins
By Victoria Dean

Apr. 20 2018, Updated 9:02 a.m. ET
Fiscal 1H18
In 1H18, Hain Celestial's gross margin was 18.6%, up 110 basis points from 1H17, driven by a 4.4% sales increase. The company's SG&A (selling, general, and administrative) expenses rose 6.4%. The SG&A expenses, along with acquisition-related charges, were offset by gross margin expansion and reduced accounting review and remediation costs, leading to 22.9% growth in operating income to $67.8 million.
In 1H18, Hain's operating margin expanded by 70 basis points. On an adjusted basis, it expanded by 140 basis points to 6.9%. Hain's adjusted EBITDA (earnings before interest, tax, depreciation, and amortization) rose 23.5% to $142.2 million.
Article continues below advertisement
Project Terra
The company's margin gained from higher sales and strong cost-cutting measures. Under Project Terra, its global cost savings initiative, the company achieved $35 million in savings in fiscal 1H18.
Hain Celestial aims to achieve $350 million in savings by 2020 through portfolio rationalization and streamlining its manufacturing plants, co-packers, and supply chain processes. The company has targeted a savings goal for fiscal 2018 of $100 million.
Nonetheless, commodity inflation, brand marketing, and escalating freight costs continue to be a concern. The company is planning for $40.0 million–$50.0 million in brand investments in fiscal 2018, mainly in US markets. In fiscal 2018, Hain Celestial has guided for adjusted EBITDA of $340 million–$355 million, representing 24%–29% growth YoY.
Packaged food manufacturers impacted by rising costs
Packaged food manufacturers Hain Celestial, Campbell Soup (CPB), and Conagra Brands (CAG) have seen their margins impacted by rising commodity inflation, logistics, and packaging costs.
Whereas retailers are exercising extensive cost-cutting measures, rising costs have offset their benefits. Campbell Soup's adjusted EBIT (earnings before interest and tax) are now expected to fall 5%–7% instead of 2%–4%. Conagra Brands expects its adjusted operating margin to be at the lower end of its guided range of 15.9%–16.3%.