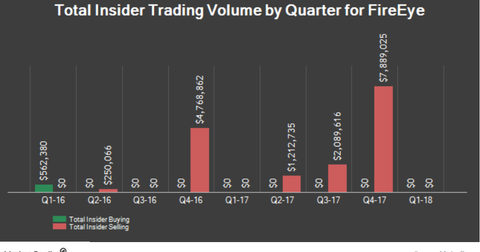 A Look at FireEye's RSI and Volatility in April
By Anne Shields

Updated
FireEye's RSI
In this final part of this series, we'll look at several other technical indicators for FireEye. Technical analyses of companies examine the price action of the financial markets. Technical analysts believe that even if all relevant information of a particular stock is available, we can't predict a precise market response to that information.
Technical analysis helps us identify the trends that signal fundamental trends, which may not tell the entire story of the stock's movement when compared with the concurrent fundamental trend. Fundamental analysis is a comprehensive look at the overall economy and industry conditions, followed by the financial analysis of a company to arrive at a stock's intrinsic value.
FireEye's (FEYE) 14-day RSI (relative strength index) is 56, indicating that the company's stock is neither overbought nor oversold.
Article continues below advertisement
The relative strength index helps investors and traders analyze the overbought or underbought status of a stock. If an RSI figure is above 70, it's an indication that the company's stock may fall soon, as it has been overbought. An RSI figure below 30 suggests that a stock may rise soon, as it has been oversold.
FireEye's ATR and volatility
FireEye's ATR (average true range) value is ~0.59. The average true range identifies periods of high and low volatility in the market. ATR is useful in identifying periods of low and high volatility for a stock. 
High volatility signals large stock price fluctuations in the market, whereas low volatility indicates a market that is in a trading range. ATR is helpful in making investment choices that are aligned with a stock's risk profile.
FireEye stock has a beta of ~0.82, which indicates the stock's relatively lower volatility in comparison to the overall market. When the beta is higher than 1.0, a stock is usually viewed as being more volatile than the overall market.