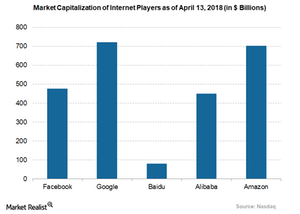 A Look at Facebook's Valuation Multiples
By Sophia Nicholson

Apr. 19 2018, Updated 7:30 a.m. ET
Facebook's market cap
On February 28, 2018, Facebook (FB) was the third-largest Internet player worldwide with a market cap of ~$518.0 billion. However, March wasn't kind to Facebook following revelations that data company Cambridge Analytica had improperly collected the personal data of ~87 million Facebook users and influenced President Donald Trump's election campaign, sparking a US regulatory inquiry and an outcry from lawmakers in several countries.
Article continues below advertisement
Facebook stock fell ~15.0% and lost almost $50.0 billion in market capitalization from March 17 to April 9, 2018. On April 13, Facebook's market cap held fast at ~$476.0 billion. Amazon's (AMZN) market cap is ~$701.2 billion, Alibaba's (BABA) is ~$449.1 billion, Alphabet's (GOOG) is ~$719.6 billion, and Baidu's (BIDU) is ~$80.5 billion.
Financial ratios
Facebook's EV-to-adjusted EBITDA (enterprise value to adjusted earnings before interest, tax, depreciation, and amortization) ratio for the current trailing 12 months is 13.0x. Its expected EV-to-adjusted EBITDA for 2018 is 10.5x.
The company's current EV-to-sales ratio for the trailing 12 months is 10.7x, while its expected EV-to-sales ratio for 2018 is 6.2x.
Facebook's trailing-12-month EV-to-cash flow ratio and trailing-12-month EV-to-free cash flow ratio are 17.9x and 24.8x, respectively.
Article continues below advertisement
A look at Facebook's earnings
Facebook's EBITDA margin was 56% in 2017. Facebook's EBITDA fell 28% to $23.2 billion last year. Analysts expect the company to report EBITDA of $33.4 billion this year. Facebook's price-to-EBITDA ratio is 20.5x.
Inside Facebook's price metrics
With a book value per share of $25.6, Facebook is trading at a price-to-book value of 6.4x. The stock's estimated book value per share for 2018 is $32.3. Its price-to-sales ratio is 11.7x, and its estimated price-to-sales ratio for 2018 is 8.3x.