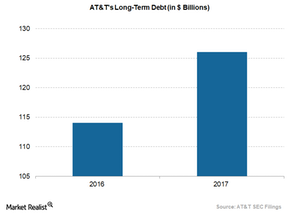 A Look at AT&T's Filing of Vrio Initial Public Offering
By Sophia Nicholson

Apr. 5 2018, Updated 7:35 a.m. ET
Vrio IPO
AT&T (T) has recently filed for a potential IPO (initial public offering) of its minority stake in its DirecTV Latin American business. The IPO was filed with the SEC (Securities and Exchange Commission). The business will be called Vrio and will trade on the New York Stock Exchange with the ticker symbol VRIO. The IPO is expected to debut in the first half of 2018.
The IPO's joint bookrunners were Goldman Sachs (GS), JPMorgan (JPM), and Morgan Stanley (MS). After the IPO, AT&T would control a majority stake in Vrio.
Article continues below advertisement
AT&T's debt
AT&T has been seeking ways to reduce its debt profile, which is expected to increase to $180 billion after the $85.4 billion acquisition of Time Warner (TWX) closes. The company expects the IPO to raise up to $100 million, which will, in turn, help the company partially reduce its debt. However, according to Reuters, the IPO most likely won't meaningfully affect AT&T's debt profile. At the end of 2017, AT&T was carrying a long-term debt of $126 billion.
Earlier, AT&T was reportedly looking for the possibility of a sale of its pay-TV operations in Latin America, which could have been valued up to $10 billion. AT&T acquired the stake in the Latin American entertainment services business following its $48.5 billion acquisition of DirecTV in 2015. At the end of 2017, AT&T's DirecTV Latin America had about 13.6 million subscribers in South America and the Caribbean, an increase of more than 9% year-over-year.