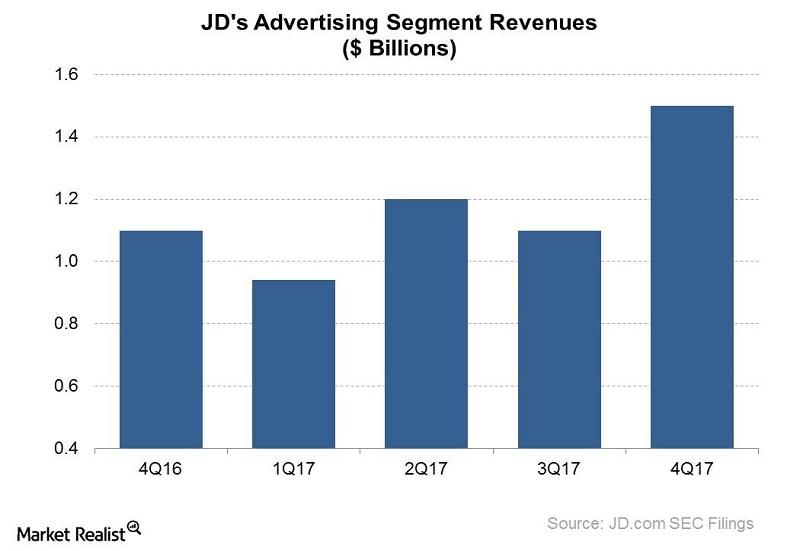 A Closer Look at the JD.Com–Suzhou Tianma Partnership
By Ruchi Gupta

Nov. 20 2020, Updated 12:19 p.m. ET
Expanded market for Suzhou Tianma
JD.com (JD) has signed a strategic agreement with Suzhou Tianma Specialty Chemicals regarding areas such as e-commerce solutions. The agreement is expected to pave the way for Suzhou Tianma to sell its products on JD's online platforms while JD gets more inventories for its customers. Suzhou Tianma is a supplier of chemicals and pharmaceutical products and intermediaries.
For Suzhou Tianma, the agreement with JD promises an expanded market for its products given that consumers and businesses are increasingly shopping online for convenience and to take advantage of lower prices.
Article continues below advertisement
More inventories and traffic for JD
For JD, the agreement with Suzhou Tianma will bring more inventories to its platform, which could result in more sales. More inventories could draw more people to JD's platforms, and the company could harness this traffic to drive growth in its online advertising business. JD's revenues from services and other businesses, including advertising sales, rose 54.7% YoY (year-over-year) to $1.5 billion in 4Q17.
E-commerce companies advertising
E-commerce companies are expanding into the digital advertising space to monetize their traffic. In this way, they're also diversifying their revenue streams.
Amazon's (AMZN) advertising segment registered a revenue rise of 60% YoY with its revenue reaching $1.7 billion in 4Q17. Alibaba's (BABA) advertising segment saw a rise of 31.7% YoY in 4Q17. Advertising revenue rose 25.9% YoY at Baidu (BIDU) in 4Q17, and at Google parent Alphabet (GOOGL), advertising revenue rose 21.4% YoY in the same period. Google and Facebook are the revenue leaders in the digital advertising industry.