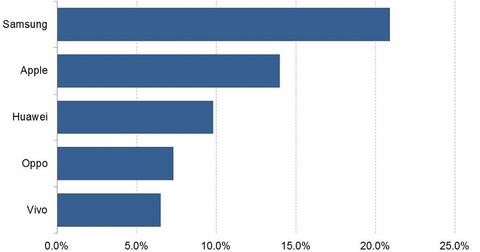 5G-Ready Phones: Qualcomm's And Huawei's Timelines Differ
By Ruchi Gupta

Updated
Huawei sees 5G phones starting to surface in 2018
From mobile chip suppliers to telecom equipment vendors to mobile network operators, 5G (fifth generation) technology holds major promise. But when could this promise materialize? On the infrastructure side, 5G network tests are underway in many markets around the world. In the United States, for example, Verizon (VZ) and AT&T (T) are looking to launch some form of 5G service before the end of the year.
On the consumer side, some say 5G-ready phones aren't far away. Qualcomm (QCOM), a leading supplier of mobile chips, expects 5G-ready consumer devices to start arriving in 2019. However, Huawei disagrees, saying 5G-ready smartphones could start arriving in 2H18.
Article continues below advertisement
Huawei chip meets 5G standards
In February 2018, Huawei unveiled what it claimed to be the world's first commercial chip that meets 5G standards. The company said its chip, Balong 5G01, can support download speeds of 2.3 Gbps (gigabits per second), which is significantly faster than current 4G networks.
Huawei is looking to roll out smartphones based on its Balong 5G01 chip starting in 3Q18 or 4Q18. According to CNBC, Huawei is not keen on licensing its 5G chip to rivals. Therefore, smartphone competitors such as Apple, Xiaomi, and Oppo may have to wait for Qualcomm's predicted 2019 arrival. Huawei was the world's third-largest smartphone vendor in 2017, commanding a 9.8% share of the market, according to Gartner.