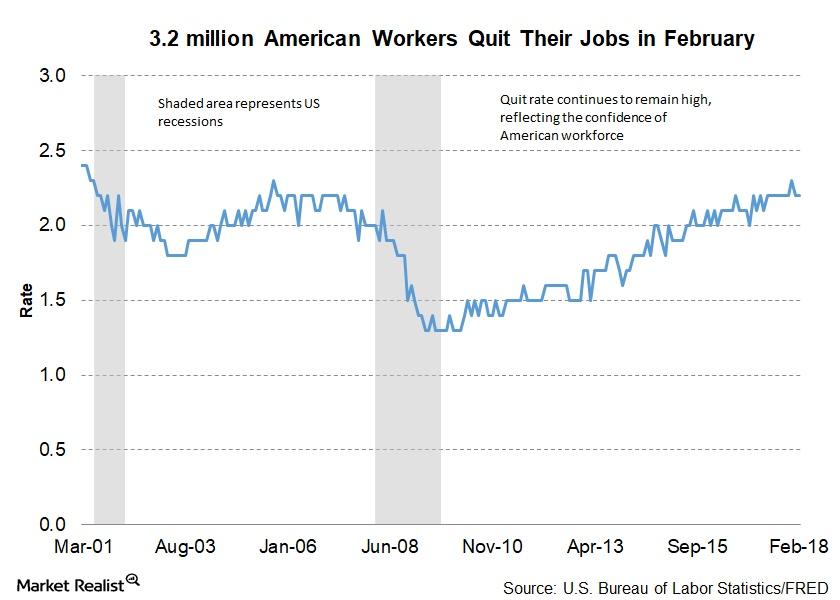 3.2 Million Americans Quit Their Jobs in February
By Ricky Cove

Apr. 18 2018, Updated 12:54 p.m. ET
3.2 million Americans quit their jobs in February 
The "Job Openings and Labor Turnover Survey" (or JOLTS) data for February was reported on April 13, and it contains information about job openings and total separations. The total number of separations includes layoffs, retirements, and voluntary quitting.
As per the latest JOLTS report, the total separations for February was 5.2 million at a rate of 3.5% of the total workforce and a decrease from the January reading of 5.9 million and 4.1%, respectively. Within the total separations, the number of workers who quit voluntarily was 3.2 million, or 2.2% of the workforce. The quit rate remained unchanged from the January reading, indicating that workers continue to quit voluntarily—a positive sign for the economy.
Article continues below advertisement
A closer look at employment in February
The net change in employment can be measured by subtracting the number of separations from the number of hires. The Bureau of Labor Statistics (or BLS) reported that, over the last 12 months through February, total hires were 65.6 million and total separations were 63.3 million, yielding a net employment gain of 2.3 million. The number of quits has increased for an eight consecutive years, a trend that's parallel to the US economic expansion.
In February, the quit rate across industries has remained largely unchanged among industries, with the leisure and hospitality, mining, and logging (WOOD) industries leading the quit rate table. The real estate sector (XHB) has seen the highest decline in the quit rate, at 0.5% in February.
Which sectors have witnessed the most layoffs?
The JOLTS report also reports the number of layoffs. In February, there were 1.2 million layoffs and discharges, which was 0.9% of the workforce—a decrease from the January readings of 2.2 million and 1.6%. The decrease in layoffs was broad-based across industries after a sharp increase in layoffs in January. The professional and business services (IYC) sector witnessed the most layoffs, at 329,000 in February. The construction (ITB) and healthcare (XLV) sectors—which saw a higher rate of layoffs in January—normalized in February. 
The US employment market remains strong. As per the recent summary of economic projections from the FOMC, the employment market could get tighter in the months to come.