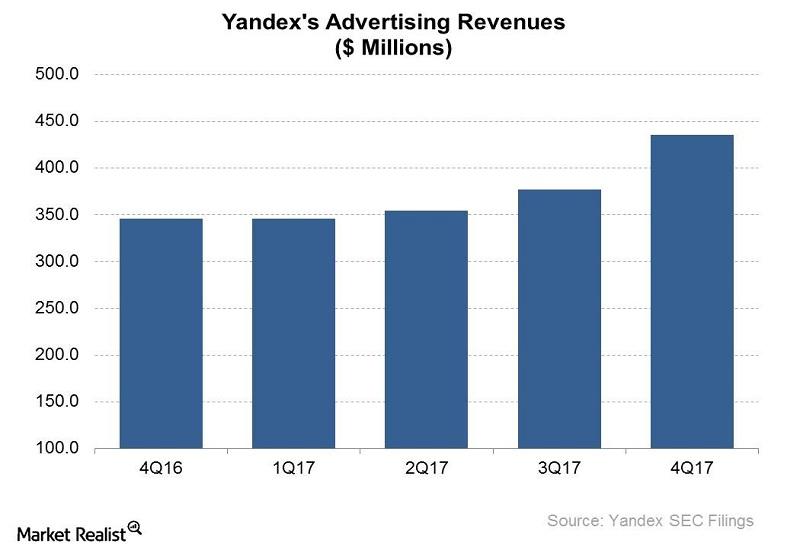 Yandex's Advertising Business: What You Need to Know
By Neha Gupta

Mar. 26 2018, Updated 9:01 a.m. ET
Yandex's ad business has two components
As an Internet search engine company, Yandex (YNDX) draws the vast majority of its revenues from online advertising services, a business that contributes about 90% of the company's quarterly revenues.
Yandex's (YNDX) advertising business has two components based on how ad revenue flows in. Ad sales through platforms owned by Yandex are reported as Yandex properties advertising revenue, while ad sales made through third-party platforms are reported as partner network revenues. Alphabet's (GOOGL) Google has a similar structure of reporting advertising revenue. At both Yandex and Google, the majority of advertising revenue is generated on owned properties.
In 4Q17, ad sales booked on Yandex properties grew the fastest, at 22% YoY, compared to 11% YoY growth of partner advertising revenue. Yandex properties contribute the bulk of the overall advertising revenue. In 4Q17, Yandex properties contributed 75.5% of overall advertising revenue.
Article continues below advertisement
Advertising revenue increased 19%
Yandex's advertising revenue increased 19% YoY (year-over-year) to $435.2 million in 4Q17. Advertising revenue was up 21.4% YoY at Google parent Alphabet (GOOGL) and up 48% at Facebook (FB) in 4Q17. Yelp (YELP) registered an 18% YoY increase in advertising revenue in 4Q17. Baidu (BIDU), the operator of the largest Chinese-language search engine, recorded a 25.9% YoY increase in advertising revenue in 4Q17.
More ads served at higher prices
The increase in Yandex's advertising revenue was driven by an increase in ad-load (the number of ads served) as well as improved ad prices. Yandex's ad-load increased 10% YoY while average price per ad increased 9.0% YoY. Facebook also reported an increase in its average price per ad in 4Q17.