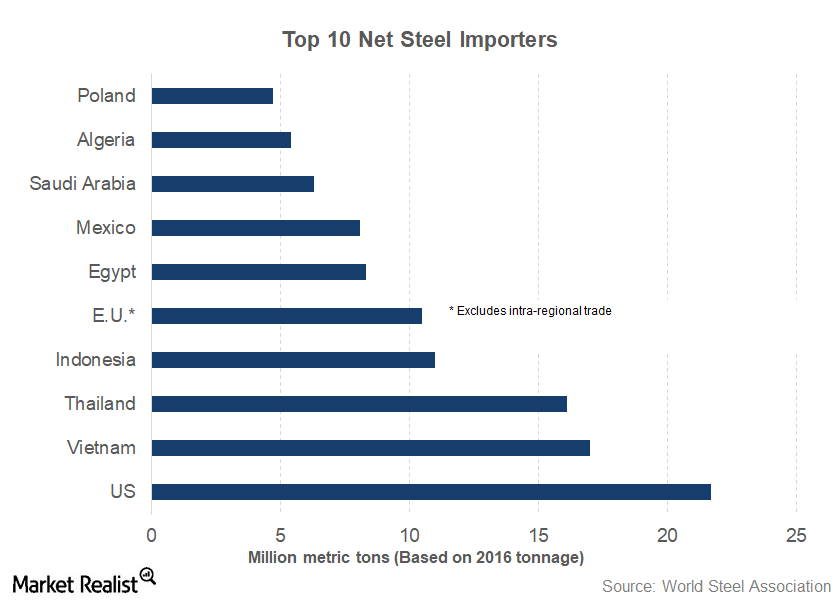 Will US Steel End Up Being a Pawn in the Trade War?
By Mohit Oberoi, CFA

Mar. 28 2018, Updated 7:32 a.m. ET
Trade war
According to the presidential proclamation, some countries have been temporarily exempted from the Section 232 tariffs "pending discussions of satisfactory long-term alternative means to address the threatened impairment to U.S. national security." The proclamation also adds, "By May 1, 2018, the President will decide whether to continue to exempt these countries from the tariffs, based on the status of the discussions."
Article continues below advertisement
NAFTA
President Trump has already linked the Section 232 exemptions for Canada and Mexico to the ongoing NAFTA renegotiation talks. President Trump has never been a big fan of NAFTA and the agreement came under severe criticism from President Trump, who has often called it a bad deal since it has led to the relocation of jobs from the United States to Canada and Mexico. President Trump has indicated that the Section 232 steel and aluminum tariffs would be linked to successful NAFTA talks. The steel and aluminum tariffs could be used as a bargaining chip with other countries also.
However, Canada and Mexico have sought to delink the NAFTA talks from the Section 232 tariffs. According to CNBC, Mexican Economy Minister Ildefonso Guajardo called the NAFTA talks "independent" of Trump's steel and aluminum tariffs.
A pawn in the larger game?
The impact of Section 232 will likely be less significant than what steel producers like ArcelorMittal (MT), Steel Dynamics (STLD), and Nucor (NUE) had hoped for a month back when President Trump indicated that he would not grant any country-wise exemptions. Most US steel stocks including U.S. Steel (X) and AK Steel (AKS) are now trading in the red this year as the exemptions have dented market sentiments.
Now, the key question here will be whether steel companies will be better off after the tariffs. We'll discuss this question in the next article.