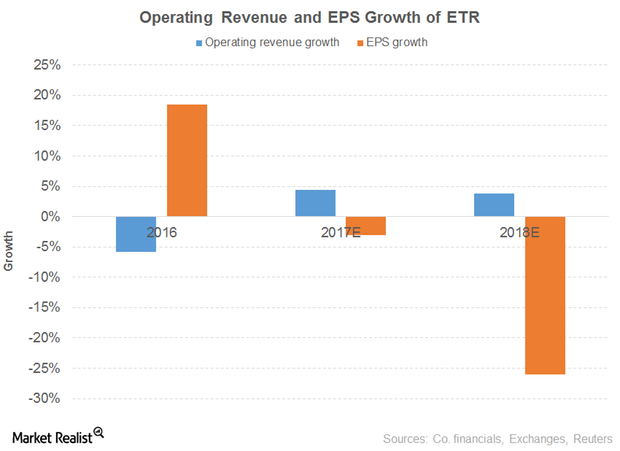 Analyzing ETR's Potential Dividend Growth Drivers
By Amanda Lawrence

Mar. 2 2018, Published 8:43 a.m. ET
What led to the EPS decline?
ETR's cost of revenue fell 21% in 2016 before rising 15% in 9M17. In addition, gross profit expanded 3% in 2016 before falling 2% in 9M17. Operating expenses rose 8% and 14% in 2016 and 9M17, respectively, due to higher asset impairment and decommissioning charges in both the periods. This led to a negative operating income growth of 96% in 2016. Operating income shed 40% in 9M17.
Including gain on sale of assets in 2015 and 9M17, operating expenses rose 10% and 14% in 2016 and 9M17, respectively. As a result, negative operating income grew 196% in 2016 and lost 39% in 9M17. Net other expenses dropped 1% in 2016 and 35% in 9M17 due to other income offsetting the impact of other expenses. Net income gained 18% in 2016 before shedding 4% in 9M17. EPS grew 19% in 2016 before losing 5% in 9M17.
Article continues below advertisement
What will drive the future operating revenue and EPS?
The company has project plans worth $1 billion in the next five years for its transmission operations. All of them are under evaluation along with $500 million of additional projects. It is also gearing up for deployment of advanced meters post-regulatory approval. The large generation projects, namely, the St. Charles, Lake Charles, and Montgomery County Power Stations are progressing according to plan. The company intends to continue operating Palisades until spring 2022. It is also working towards a settlement of the Formula Rate Plan. The company also got the Entergy Texas's DCRF settlement agreement approved to increase the recovery right amount.
Operating revenue has been projected to grow 4% in 2017 and 2018. EPS is being expected to fall 3% in 2017 and 26% in 2018.
A PE of 0x and a dividend yield of 4.7% compares to a sector average PE and a dividend yield of 58.6x and 3.7%, respectively.
Dividend ETFs with exposure to the utility sector: