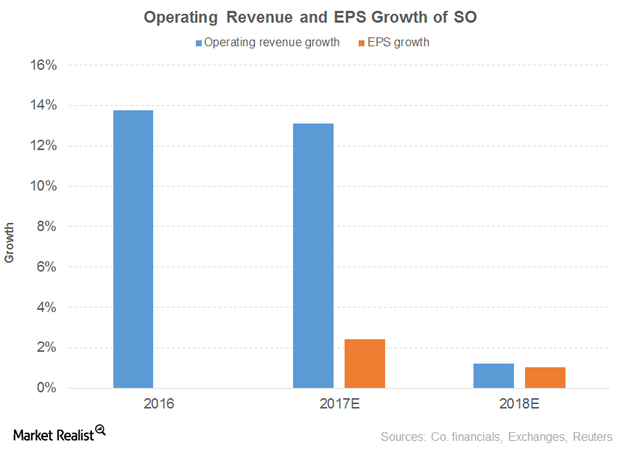 What Could Drive SO's Dividend Growth
By Amanda Lawrence

Mar. 2 2018, Updated 10:15 a.m. ET
What led to the EPS decline?
SO's cost of revenue rose 11% and 23% in 2016 and 2017, respectively. Cost of natural gas and other sales drove the increase in both the periods, which led to 15% and 13% growth in gross profit for 2016 and 2017, respectively. Operating expenses rose 19% and 41% in 2016 and 2017, respectively. The rise was due to estimated loss on Kemper IGCC. As a result, operating income grew 8% in 2016 before dropping 45% in 2017.
Other expenses rose 76% and 29% in 2016 and 2017, respectively, due to high-interest expenses. This translated into 4% and 11% growth in net income for 2016 and 2017, respectively. EPS remained flat in 2016 and grew 4% in 2017.
Article continues below advertisement
What will drive the future operating revenue and EPS?
Southern Company Gas entered an agreement with South Jersey Industries for the sale of utility operating assets of Elizabethtown Gas and Elkton Gas. As the economic fundamentals improved, the company recorded strong residential customer growth. It also witnessed the expansion of square footage across its footprint including office space, warehouses, and data centers. Southern Power secured tax equity for the Cactus Flats wind project and is planning to sell a minority equity interest in Southern Power's portfolio of solar assets to reduce its debt financing.
Operating revenue has been projected to fall 1% in 2018. EPS is expected to fall 2% in 2018. A PE of 51.1x and a dividend yield of 5.4% compares to a sector average PE and a dividend yield of 60.8x and 3.8%, respectively.
Dividend ETFs with exposure to the utility sector: