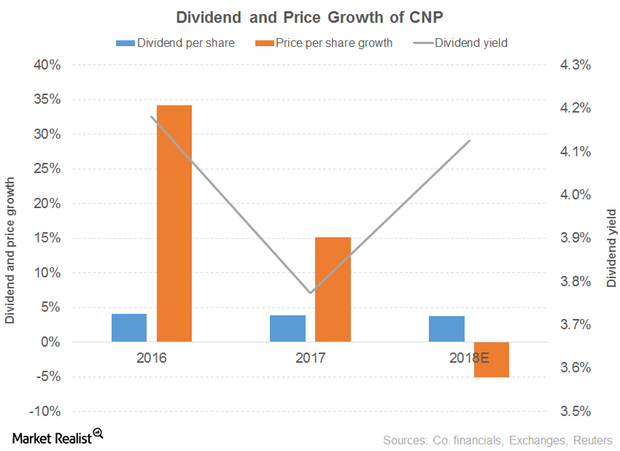 What Could Affect CNP's Dividend Growth?
By Amanda Lawrence

Mar. 2 2018, Published 8:43 a.m. ET
What is the dividend outlook?
CenterPoint Energy's (CNP) present dividend yield of 4.1% has been driven by dividend growth and price loss. Dividends grew 4% in 2016 and 2017 and are projected to grow 4% in 2018 as well.
Article continues below advertisement
What is the projected dividend payout?
The company recorded a dividend payout of 89% in 2016. It has a projected dividend payout of 80% and 74% in 2017 and 2018, respectively. The company hasn't always been able to generate enough free cash flow to pay off its dividends due to high capital expenditure relative to its operating cash flow.
What drove the revenue growth?
Revenue grew 2% and 28% in 2016 and 9M17 (the first nine months of 2017), respectively. Non-utility revenue drove the growth in both the periods offset by utility revenue. Electric transmission and distribution and midstream investments drove the growth in 2016 offset by energy services. Natural gas distribution and energy services drove the revenue in 9M17 offset by electric transmission & distribution.
Article continues below advertisement
What drove the EPS growth?
The company's cost of revenue fell 4% in 2016 before rising 75% in 9M17. Non-utility natural gas expenses drove the rise in 9M17. Utility natural gas expenses decreased in 2016 before rising in 9M17, which led to a gross profit growth of 6% in 2016 and a flat growth rate in 9M17. Operating expenses rose 8% in 2016 and fell 2% in 9M17, which translated into 3% and 8% growth in net income for 2016 and 9M17, respectively. Other net expenses fell 87% in 2016 and 101% in 9M17. In total, net income and EPS rose 5% and 16% in 2016 and 9M17, respectively.
What will drive the future revenue and EPS?
Customer growth has been a significant achievement for the company. The company expects to complete the Brazos Valley Connection project, which includes a 60-mile transmission line by 1Q18. The company is also expecting rate relief from the distribution cost recovery factor and has also filed for transmission cost of service rate recovery. It expects to make capital investments worth $8.3 billion between 2018 and 2022.
Revenue has been projected to grow 18% in 2017 and 2% in 2018. EPS is expected to grow 15% in 2017 and 12% in 2018. A PE of 27x and a dividend yield of 4.2% compares to a sector average PE and a dividend yield of 21x and 3.8%, respectively.
Dividend ETFs with exposure to CNP