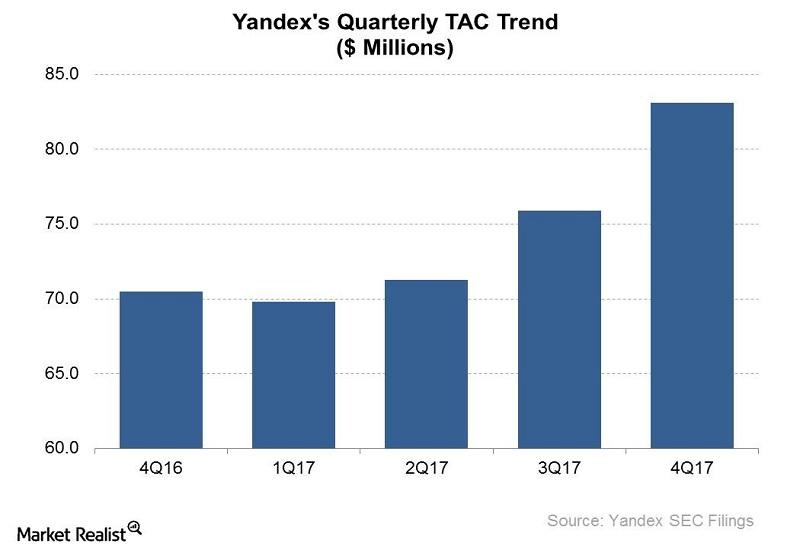 Why Traffic Acquisition Costs Are Key at Yandex and Google
By Neha Gupta

Mar. 26 2018, Updated 10:31 a.m. ET
Mobile traffic is more expensive than desktop traffic
Yandex (YNDX) and Google's parent, Alphabet (GOOGL), have been reporting increasing costs and expenses quarter after quarter recently. At Yandex and Google, there's a particular component of costs that's seeing a lot of discussion: traffic acquisition costs, or TAC for short.
TAC represent payments that search engine companies such as Google and Yandex make to partners in order to bring users to their platforms. A partner could be a smartphone manufacturer that builds devices with Yandex as the default search engine. Last year, a report announced that Google was paying about $3.0 billion to Apple to remain the default search engine on iPhones and iPads.
Google has explained that its rising TAC is a result of increased reliance on mobile traffic for its advertising business. But mobile traffic costs more than desktop traffic, so it could be driving TAC and overall costs and expenses at Yandex and Google.
Article continues below advertisement
TAC drove expenses
Yandex's (YNDX) costs and expenses increased roughly 22.3% YoY (year-over-year) to $347.6 million in 4Q17. Expenses increased 27.3% YoY at Google's parent, Alphabet, and 32% YoY at Facebook (FB) in 4Q17. Yelp (YELP) and Baidu (BIDU) reported 16.4% and 17.5% YoY increases in expenses, respectively, in 4Q17.
Yandex's expenses were driven by higher TAC (traffic acquisition costs) and increasing spending on product development and marketing. TAC increased 12% YoY to about $83.1 million in 4Q17. Google recorded 35.4% YoY increase in TAC to $6.5 billion in 4Q17. TAC consumed 17.2% of Yandex's revenue in 4Q17, down from 19.3% a year ago. TAC consumed 24% of Google's advertising revenue in 4Q17, compared to 22% a year ago.