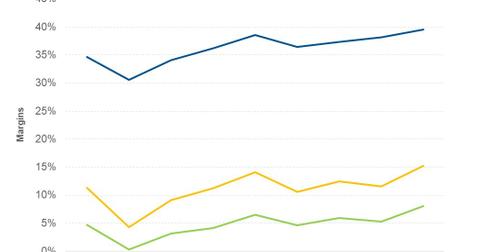 Why RH's Net Margin Expanded in 4Q17
By Rajiv Nanjapla

Mar. 30 2018, Updated 6:34 a.m. ET
4Q17 performance
For 4Q17, RH (RH) reported gross margin, EBITDA (earnings before interest, tax, depreciation, and amortization) margin, and net margin of 38.6%, 14.1%, and 6.5%, respectively. These margins were 34.6%, 11.3%, and 4.7%, respectively, in 4Q16.
Article continues below advertisement
The expansion of RH's net margin
RH's gross margins expanded 4.2% in 4Q17 due to savings on rent after closing two of its DCs (distribution centers), expansion in its product margins, and expenses incurred in 4Q16 due to SKU (stock keeping unit) rationalization.
The company's 4Q17 EBITDA margins were positively impacted by lower SG&A (selling, general, and administrative) expenses. During the quarter, the company's SG&A expenses declined from 28.9% to 28.3% due to lower labor expenses from the closure of DCs and sales leverage from higher volumes.
The net margin was positively impacted by a lower effective tax rate. In 4Q17, RH's effective tax rate was 34% compared to 39% in 4Q16. However, some of the expansion in net margins was offset by higher interest expenses.
Outlook
For 2018, analysts are expecting RH's net margin to be 6.1% compared to 3.7% in 2017. The expansion is expected to be driven by a higher gross margin, an improvement in adjusted operating margin, and a lower effective tax rate. Its adjusted operating margin is expected to rise due to the continued benefits from the more efficient operating platform and a simplified architecture. Management expects its effective tax to be 26% in 2018 compared to 34.7% in 2017. It has also set its net income guidance at $145 million–$165 million.
Next, we'll look at RH's 4Q17 EPS (earnings per share).