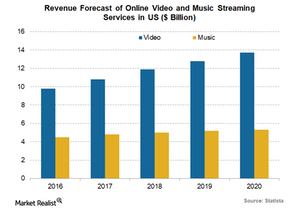 Why Is Facebook Inking Music Licensing Deals?
By Sophia Nicholson

Mar. 26 2018, Updated 7:30 a.m. ET
Facebook signs licensing deal with Warner Music
Facebook (FB) recently partnered with Warner Music Group to allow its 2.1 billion users to post recorded and licensed music from Warner Music catalogs in their videos and messages. The deal is a step forward as Facebook is making its way in the music world. Plus, this deal could help Facebook address royalty and copyright issues around uploading music and videos on its platform.
Except for Facebook's messaging app WhatsApp, the deal would allow users to share songs on Facebook, Instagram, Messenger, and Oculus.
Article continues below advertisement
Facebook's music deals
Warner Music Group was the last of the world's top three music labels that have signed licensed music contracts with Facebook. Facebook inked music licensing deals with Sony (SNE)/ATV Music Publishing in January. It also signed a similar music partnership with Universal Music Group (or UMG) in December 2017 to allow Facebook users to upload music to their videos.
Facebook also signed a deal with leading indie label representative ICE in February, marking the company's first partnership with an online music licensing company. Facebook has also signed licensing deals with Global Music Rights, HFA/Rumblefish, and Kobalt Music Publishing.
Growing trend of digital music
Facebook (FB) has been building partnerships with major record labels and publishing agencies in the last several months owing to the increasing trend of online music streaming and Internet sharing. The company believes that bringing more music-based posts to Facebook could engage more users and improve their online conversations.
According to Statista, the trend of online video and music streaming services in the US is expected to grow exponentially and drive revenues ahead, as can be seen from the chart above.
Facebook's recent music deals could pose a threat to Alphabet's (GOOGL) YouTube, which is the largest provider of video content. YouTube also has long-term agreements with UMG and Sony Music.