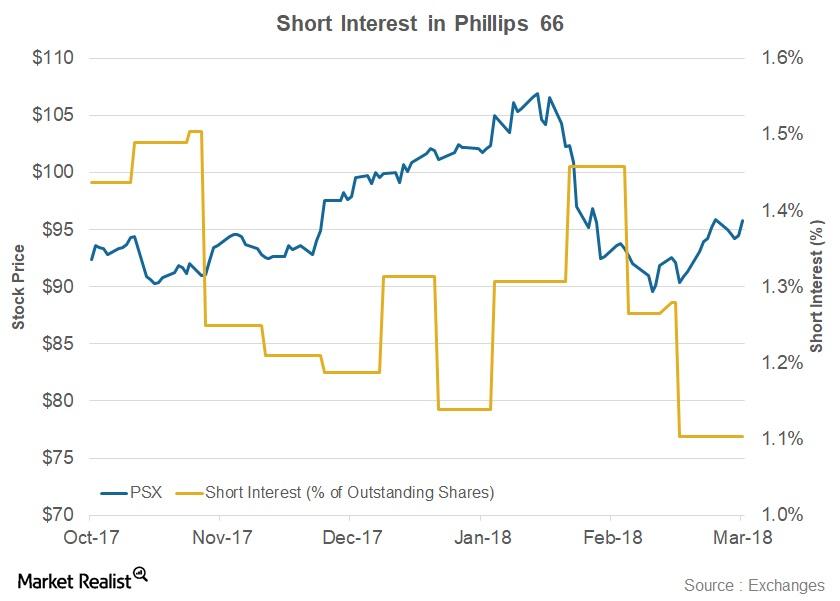 Why Has Short Interest in Phillips 66 Fallen?
By Maitali Ramkumar

Mar. 22 2018, Updated 10:31 a.m. ET
Short interest in Phillips 66
Short interest in Phillips 66 (PSX) expressed as a percentage of outstanding shares has fallen from 1.5% on February 14, 2018, to the current level of 1.1%. Normally, everything else being equal, a decline in short interest could mean a decrease in bearish sentiment for a stock. In the same period, Phillips 66 stock has risen 2.6%.
Article continues below advertisement
Why the fall in short interest?
The fall in short interest in Phillips 66 could be due to better-than-expected 4Q17 earnings. PSX's adjusted net income rose from $83 million in 4Q16 to $548 million in 4Q17. The improvement was led mainly by the rise in adjusted refining earnings due to the rise in refining margins in the quarter. PSX's refining margins rose steeply by 39% year-over-year to $9 per barrel in 4Q17. Its adjusted midstream earnings also grew. For more on this, be sure to read Phillips 66's 4Q17 Earnings Rise, Refining Margins Expand.
Peers' short interest
PSX's peers Valero Energy (VLO), PBF Energy (PBF), and Delek US Holdings (DK) have also witnessed a fall in their short interests by 0.8%, 0.8%, and 0.9%, respectively, since February 14, 2018. In the same period, VLO, PBF, and DK stocks have risen 1.3%, 6.1%, and 10.8%, respectively. That implies that short interest and stock prices usually move in opposite directions.
Currently, VLO, PBF, and DK have short interests of 2.9%, 6.9%, and 7.8%, respectively. The short interest levels on an absolute basis for all three stocks are more than PSX's level.
Next, let's see how Phillips 66's valuation compares to its peers.