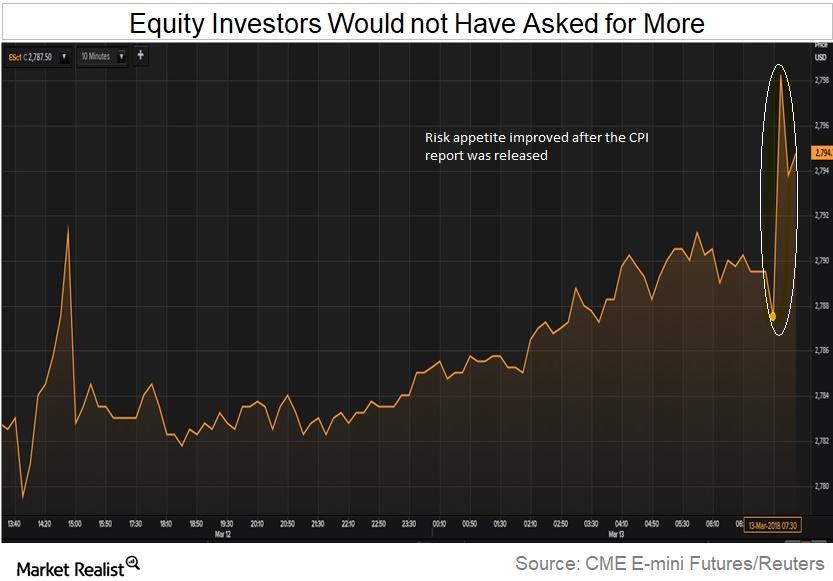 Why Equity Market Spike after Inflation Report Could Be Short-Lived
By Ricky Cove

Mar. 14 2018, Updated 10:32 a.m. ET
Inflation worries eased but political and tariff issues reignited
The most awaited economic data release of the week proved to be risk positive, as inflation growth for the month of February was reported at 1.8%, which was in line with market expectations. This inflation report added to the risk appetite that was revived after the tariff flexibility and tepid hourly earnings growth reported in the previous week. Both the payrolls report on Friday and Tuesday's inflation (TIP) report have increased the odds for a slower pace of rate hikes from the US Fed. In the last five weeks, markets were concerned that faster rate hikes could have an impact on the performance of businesses whose borrowing costs could increase if the Federal rates go up.
Article continues below advertisement
Market reaction to the inflation report
The inflation report was released before the market opened, and the initial reaction was recorded in the index futures. Index futures (IVV) spiked as soon as the inflation report indicated a stable inflation growth rate of 0.2% in February, declining from a steep increase of 0.5% in January. The case for limited price pressure in an expansionary fiscal environment and in an economy at full employment rekindled the Goldilocks economy narrative. This means that the US economy is in a perfect state that is conducive to risk assets, and thus the reaction of markets after the inflation (VTIP) report was out.
Why this optimistic rally could stall
Just as markets were celebrating the re-emergence of the Goldilocks economy, news about another exit from the White House and the possibility of new tariffs reignited trade war fears. On Tuesday, President Trump fired the US Secretary of State, Rex Tillerson, which makes the fifth key exit in the last two weeks. There was also a news report that indicated that President Trump could be seeking to impose tariffs of up to $60 billion on Chinese imports, targeting the technology (XLK), consumer electronics, and telecommunications (IXP) sectors. The news about these tariffs overshadowed the strong Chinese data reported on Wednesday morning. Though the news has not been confirmed by the White House, there could be a negative impact on the equity markets. In the next part of this series, we'll analyze how bond (BND) markets reacted to the CPI report.