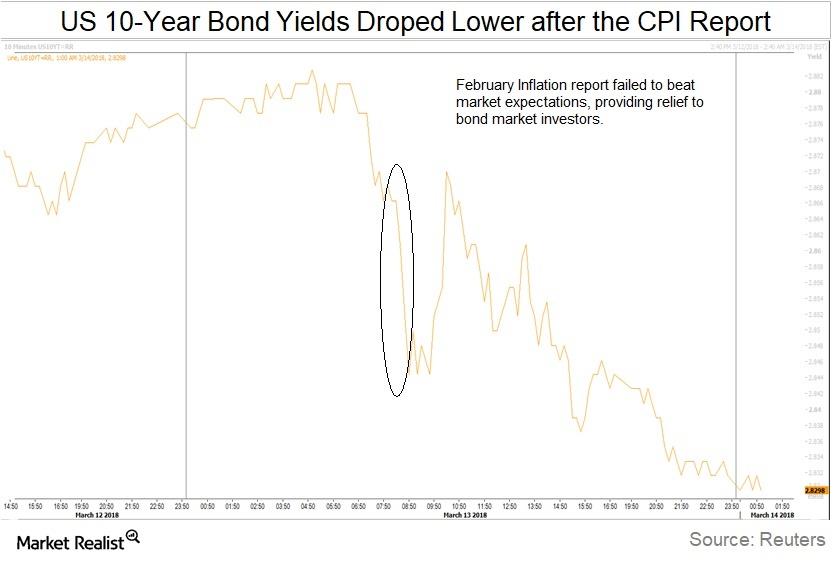 Why Bond Yields Fell after the February Inflation Report
By Ricky Cove

Mar. 14 2018, Updated 10:32 a.m. ET
Inflation and bond yields
The US bond markets (BND) have been struggling since the beginning of the year, as investors realized the Fed could increase rates faster when inflation started to increase. The increased expectations for inflation growth began in February after monthly inflation growth came in at 0.5% for January and the hourly earnings growth rose. Bond yields across the board shot up, changing the narrative about the US yield curve from flattening to steepening. This week's inflation report reduced those fears as inflation was reported to have increased by 0.2% in February, in line with market expectations and thus resulting in a sharp decline in bond yields as soon as the report was published.
Article continues below advertisement
Yield curve flattened after the report
The US bond yield curve flattened marginally on Tuesday. The reason for the flattening was not just slower inflation growth. The longer-term bond (SPTL) yields fell on Tuesday as demand for the 30-year Treasury securities remained strong at the auction for $30 billion worth of US 30-year (TBT) securities. The long-term yields reached a peak of 3.1% during the auction but were below the expected yield of 3.1%, indicating strong demand at this point. At the close of trading on Tuesday, the ten-year benchmark (IEI) was trading at 2.8%, down three basis points from the previous close, while the 30-year (TLT) benchmark was trading at 3.1%, also down by three basis points.
Bond yields going forward
With the threat from higher inflation and wage growth subsiding for this month, and the US FOMC's March rate hike almost priced in, there is a limited threat to the bond markets for the rest of March. But markets are likely to focus on every incoming data release, and this roller coaster for investors is likely to come back every month. In the final part of this series, we'll analyze the reaction of the US dollar to the February inflation report and the White House exits.