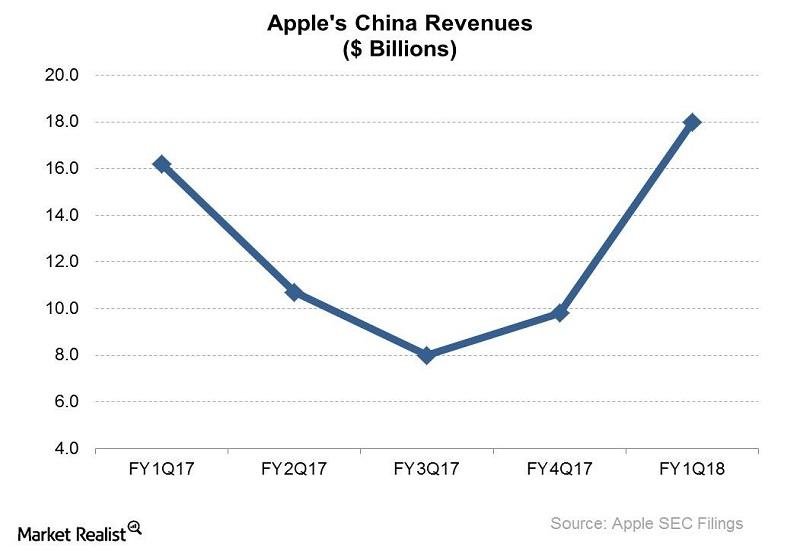 Why Apple Had to Hand Its iCloud Data to China
By Ruchi Gupta

Mar. 7 2018, Updated 10:32 a.m. ET
iCloud is a part of Apple's Services segment
Apple (AAPL) has begun shifting the iCloud data belonging to its customers in China to a data center located in mainland China. Apple's data center in China will be operated by a Chinese company with close ties to the Chinese government.
The iCloud is Apple's cloud storage service and is part of the company's Services segment, which generated $8.5 billion in revenue in Apple's fiscal 1Q18 and was one of Apple's fastest-growing businesses in the quarter.
Apple decided to migrate the iCloud data belonging to its Chinese customers to a data center in China to comply with a Chinese law demanding that data collected from Chinese citizens be stored locally. 
The law also affected Amazon (AMZN), which partnered with a local Chinese company late last year to enable it to continue offering cloud services in China. Amazon is the world's leading cloud-computing provider, and companies such as Apple and Snap (SNAP) run some of their workloads on its cloud.
Article continues below advertisement
Apple set its iCloud data transfer date in early January
Last summer, Apple revealed its plans to transfer iCloud data belonging to its Chinese customers to a Chinese data center. In early January, Apple set February 28 as the date to begin the iCloud data transfer to China. Guizhou-Cloud Big Data Industry, a state-run company, will operate Apple's Chinese data center.
Apple's Chinese revenue jumped 11%
Failing to comply with China's new data law could have exposed Apple to lawsuits or limited its participation in the Chinese market.
China, with Hong Kong included, is Apple's third-largest market. The company generated $18 billion in revenue in China in its fiscal 1Q18. Apple's Chinese revenue rose 11% YoY (year-over-year). Facebook (FB) and Alphabet (GOOGL) also generate a substantial portion of their revenues from the Asia-Pacific region, which includes China.