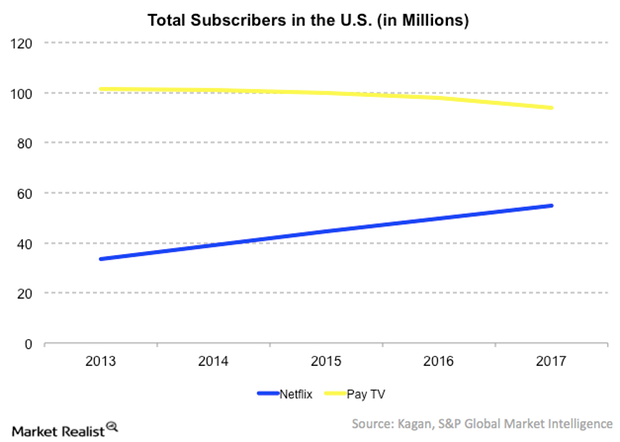 Why Americans Haven't Completely Deserted Cable TV
By Sanmit Amin

Mar. 28 2018, Updated 5:21 p.m. ET
Netflix subscribers catching up with pay-TV
Prompting a recent decline in cable and satellite TV, more Americans are opting for cost-effective streaming services like Netflix (NFLX), which now has nearly 55.0 million domestic subscribers.
However, there are still nearly 100.0 million Americans who still opt for traditional TV. According to recent research by Deloitte, Americans pay around $100 per month for cable TV. The research pointed out that people use cable TV to watch live broadcast content and because their cable TV subscriptions are bundled with their Internet packages.
Article continues below advertisement
Why some Americans are still sticking with cable TV
Cable companies have been able to retain customers because bundling landlines, Internet, and cable into one service is often cheaper than purchasing those services separately. Traditional TV businesses are promoting their products as the solution for providing cheaper, customized, and convenient TV. However, it appears that cable companies are moving away from what their viewers want.
Cable TV companies often offer packages that include channels their customers don't watch. On the other hand, new customers can get a Netflix subscription for $10.99 per month, which offers an array of quality content. However, Netflix and most other streaming services don't offer live content yet. Netflix stock has surged by a staggering 65.0% year-to-date on the back of investor optimism on subscriber growth.