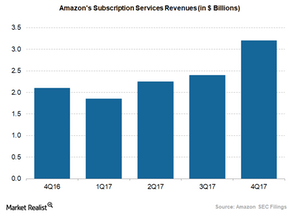 Why Amazon Charges a Monthly Fee for Prime Pantry
By Sophia Nicholson

Mar. 23 2018, Updated 7:31 a.m. ET
Amazon's shift to a subscription model for Prime Pantry shoppers
Amazon (AMZN) recently announced its plans to transform its Prime Pantry service to a subscription-based model. Amazon plans to bring the new Prime Pantry model to different US markets throughout 2018.
To encourage Prime Pantry shoppers to warm to a monthly subscription, Amazon is offering free shipping on orders of $40 or more. The Prime Pantry service is expected to cost $5 per month instead of the current cost of $6 per box. However, customers who don't wish to sign up for the new subscription-based model would be charged $8 per box.
Article continues below advertisement
Amazon looking to grow in grocery space
Amazon's Prime Pantry, launched in 2014, is an online service that offers non-perishable household goods to Amazon's Prime users. Amazon, through its Prime Pantry and AmazonFresh services, is trying to expand in the vast grocery market in the United States.
Amazon's acquisition of Whole Foods for $13.7 billion in 2017 was in line with the company's efforts to gain market share in the food retail sector, which is already dominated by Walmart (WMT), Costco Wholesale (COST), Kroger (KR), and Sprouts Farmers.
To lead the grocery market, Amazon had to boost its services, including making doorstep deliveries to homes from big-box stores such as Walmart and Target (TGT). The cost of storing, packaging, and delivering goods increased the fulfillment expenses of Amazon by 43.0% YoY (year-over-year) in 2017 to $25.0 billion, which is higher than its revenue growth of 31.0% YoY.
Amid fierce competition, subscription fees remain a critical source of revenues. In 4Q17, Amazon earned subscription services revenues of ~$3.2 billion, nearly 50.0% higher than in 4Q16.