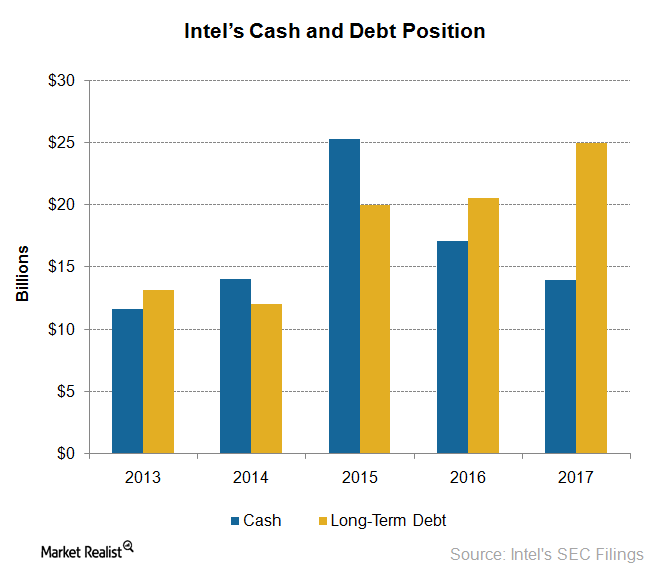 Who's Worried about Intel's Debt Levels?
By Puja Tayal

Dec. 4 2020, Updated 10:53 a.m. ET
Funding acquisition
In the preceding part of this series, we discussed how Intel (INTC) is spending its cash flows in its own business and also spending on returns to its shareholders. The company is looking not only at organic growth but also at growth through acquisitions.
Last year, Intel acquired Mobileye for an enterprise value of $14.7 billion. It funded this acquisition by raising $7.5 billion in new debt and by selling non-core assets and equity. The sales proceeds included $924 million received from the sale of a 51% stake in McAfee, $735 million received in dividends from McAfee, and $2.2 billion worth of promissory notes repaid by McAfee. The sales proceeds also included $3 billion received from the sale of ASML shares.
Article continues below advertisement
Debt restructuring
Two major acquisitions—Altera and Mobileye—in the past three years have increased Intel's leverage. The company used some of its cash flow to reduce this leverage.
In 2017, Intel spent $2.8 billion to redeem $1.6 billion worth of 2,035 convertible debenture for a non-cash loss of $385 million, which it can claim to get a tax benefit. As this debenture was convertible into 59 million shares, the redemption reduced the share dilution and acted like a share buyback.
In 4Q17, Intel repurchased $2.3 billion in high coupon debt and redeemed $425 million in old debt for cash. It also exchanged $1.9 billion in higher coupon debt, with a $2-billion 30-year debt carrying a 1% lower coupon rate. All this helped the company reduce its interest expense and debt.
Notably, Advanced Micro Devices (AMD) exchanged a higher coupon debt with a longer term lower coupon debt to reduce its interest rate.
Cash and debt position
At the end of fiscal 2017, Intel's cash reserves fell to $14 billion from $17.1 billion at the end of fiscal 2016. However, its long-term debt increased by $1.5 billion to $26.8 billion, resulting in a net debt position of $13 billion.
Even at such high leverage, Intel has a positive debt outlook from Standard & Poor's because the company has the capacity to service this level of debt. Its ~$10 billion annual free cash flow enables Intel to handle such high debt levels.