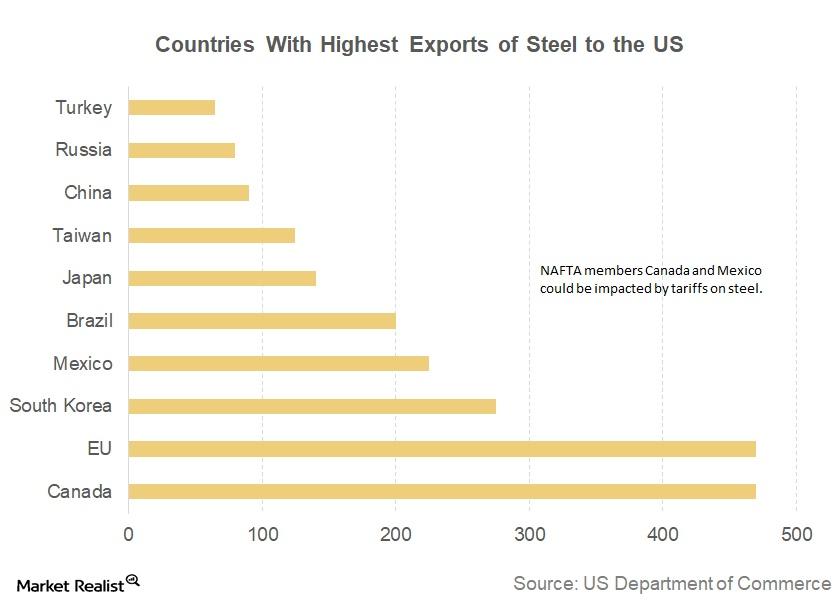 Which Countries and Industries Could Be Affected by the Tariffs?
By Ricky Cove

Mar. 9 2018, Updated 9:02 a.m. ET
Countries that could be affected
The latest report from the US Department of Commerce, which was released in December 2017, indicated that the United States is the largest steel importer in the world, and Canada is the largest source of imports of steel and aluminum into the United States. Other countries that are major exporters to the United States are the European Union, South Korea, Mexico, and Brazil. Surprisingly, China isn't among the top five major exporters of steel and aluminum to the United States. 
Article continues below advertisement
These countries have already reacted to the proposed tariffs and threatened to reciprocate if the tariffs are implemented. Even the Aluminium Association said it was concerned about tariffs as domestic supply isn't sufficient to cover US demand. It suggested that tariffs need to be directed toward China, giving some concession to EU and Canadian imports.
Downstream industries that could be impacted by steel and aluminum tariffs
It's true that struggling steel (SLX) and aluminum companies could benefit from the proposed tariffs. Industries that use these metals as inputs could witness rises in costs. The auto (CARZ) and aerospace (ITA) industries use steel and aluminum and could face price disadvantages compared to competitors abroad. Similarly, manufacturing (XLI) and construction (XHB) companies could also face the heat from rising costs. These industries employ a considerable chunk of the US workforce, and decreased profit margins could have an impact on hiring.
Jobs at the cost of business
President Donald Trump has been advocating that jobs will be saved by saving these industries. The previous incidence of tariffs on steel imports in 2002 managed to contain the decline in steel jobs, but there was no increase in the total number of jobs. There could be a short-term benefit to the industries in the sector, but the cost paid by other sectors could outweigh the benefits of tariffs. 
The bottom line when it comes to globalization is that the consumer is king. A trade policy is deemed a failure if it doesn't benefit the consumer, and the current proposal of tariffs doesn't benefit the US consumer.