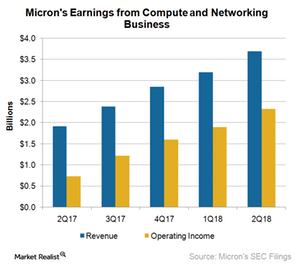 What's Going on for Micron in the Compute and Networking Space?
By Puja Tayal

Apr. 3 2018, Updated 7:30 a.m. ET
Compute and Networking
So far, we've seen that rising DRAM (dynamic random-access memory) prices and the increasing adoption of flash SSDs (solid-state drive) are driving Micron Technology's (MU) earnings. Micron's DRAM business is largely concentrated in the PC (personal computer) and server markets, which are reported under the CNBU (Compute and Networking Business Unit).
The CNBU primarily supplies DRAM products to five subsegments: graphics, enterprise, cloud, networking, and client (personal computers). Some of its key customers are Intel (INTC), NVIDIA (NVDA), and HP (HPQ).
Article continues below advertisement
CNBU earnings
Micron's CNBU revenue rose 15% sequentially and 93% YoY (year-over-year) to $3.7 billion in fiscal 2Q18, accounting for 50% of the company's total sales. This revenue was driven by strong growth in DRAM ASP (average selling price) and shipments.
The company doesn't provide a breakdown of revenue, but on average, it earns 20% of its CNBU revenue from PC DRAM and 30% from server DRAM. DRAMeXchange estimates that contract prices of PC DRAM will rise ~5% sequentially and contract prices of server DRAM will rise ~3%–5% in 1Q18.
Micron has ramped up its production of 1X DRAM, which has brought cost benefits. Rising ASPs and falling costs have increased CNBU's operating income by 22.6% sequentially to $2.3 billion, which equates to an operating margin of 63%. This is the highest profit CNBU has reported in more than two years.
Article continues below advertisement
Demand drivers
A MarketWatch article citing a research note by Longbow Research analyst Mike Burton stated that PC DRAM demand was seven times the server DRAM demand ten years ago. This scenario has changed, and now server DRAM demand is twice as high as PC DRAM demand.
Micron has moved with the market and reduced its exposure in PC DRAM from 60% to 20% of its CNBU revenue over the last ten years. It earned the remainder of its CNBU revenue from the fast-growing markets of enterprise, cloud computing, and graphics. In 2017, its cloud DRAM revenue exceeded its enterprise DRAM revenue for the first time. In fiscal 2Q18, its cloud server revenue rose ~30% sequentially due to strong demand from hyperscale customers.
The Spectre and Meltdown vulnerabilities found in Intel's chips in January 2018 have been another driver of server DRAM demand. Intel's software fixes to these hardware problems have slowed the performance of the chips while performing heavy workloads. The biggest performance hit was seen by server processors.
At the Goldman Sachs Technology and Internet Conference, Micron's CEO, Sanjay Mehrotra, stated that data centers had invested in more server DRAM to make up for deteriorating performance, thereby driving demand for server DRAM.
Micron also witnessed strong growth in the graphics segment driven by increasing demand for graphics cards by cryptocurrency miners and gamers.
The company believes that strong growth in the data center and graphics segments is here to stay. We'll look into this next.