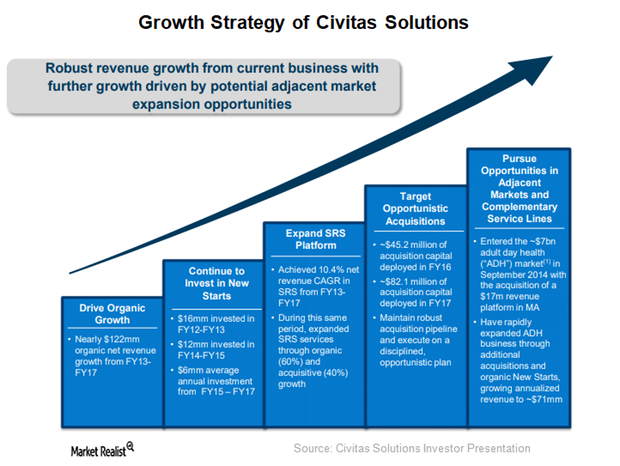 What's Civitas Solutions' Business Strategy?
By Kenneth Smith

Mar. 13 2018, Updated 3:29 p.m. ET
Industry overview
According to Civitas Solutions (CIVI), public spending on IDD services was ~$65.2 billion in 2015. Of this total, 85% was spent on services in community settings of six or fewer beds, which is the target market of Civitas Solutions, and on other non-institutional services. There were ~5.1 million individuals with an intellectual or developmental disability across the US in 2015.
Article continues below advertisement
Post-acute specialty rehabilitation services
According to the Center for Disease Control and Prevention, the market for acute care and rehabilitation for individuals with ABI is ~$10 billion annually. According to the Brain Injury Association of America, every year more than 3.2 million children and adults sustain a brain injury. Many of these injuries result in complex lifelong medical or behavioral issues that require specialized care.
In the US, ~5.3 million individuals are living with permanent disability due to ABI. Civitas Solution expects a continuing shift in care delivery to community-based settings such as the services offered by the company.
At-risk youth
According to Child Trends, ~$29.1 billion was spent on child welfare in 2014. This figure includes spending on residential and non-residential family support services. An estimated 653 thousand children and adolescents were served by the foster care system in 2014.
According to the Federal Department of Health and Human Services, there were ~428 thousand children and adolescents in foster care at the end of September 2015. Of these, ~192 thousand are living in non-relative foster family homes. This includes the therapeutic foster care market, which is the primary market for Civitas Solutions' residential ARY services.
Business strategy
To optimally capitalize on this market opportunity for its services and achieve growth, Civitas Solutions has adopted a business strategy with key aspects of pursuing opportunistic acquisitions, leveraging its core competencies to drive organic growth of high-quality services, and investing in new start programs. These programs help the company in meeting new sources of market demand quickly, require modest investments, and typically turn profitable within 18 to 24 months.
In the next part of the series, we'll take a look at the business segments and recent acquisitions of Civitas Solutions.