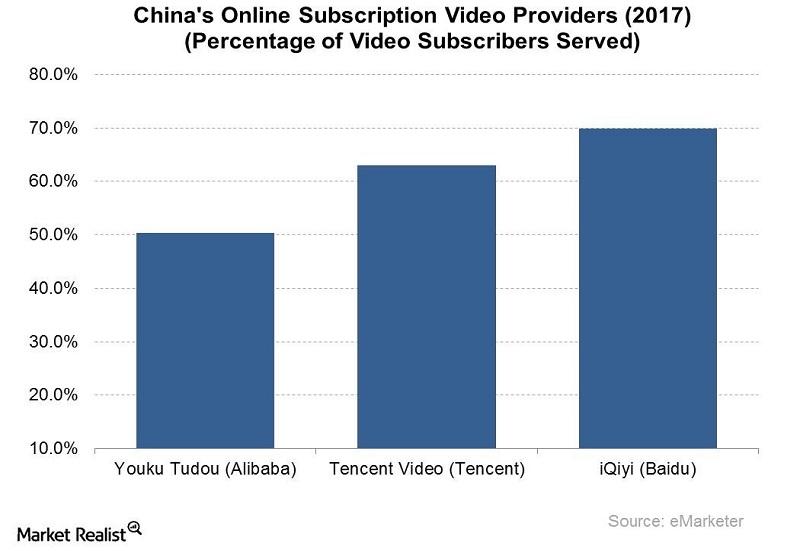 What You Should Know about Baidu's iQiyi Initial Public Offering
By Neha Gupta

Mar. 9 2018, Updated 10:31 a.m. ET
iQiyi to list on the NASDAQ
Baidu (BIDU) is preparing to take its online video service, iQiyi, public, with a planned IPO (initial public offering) in the United States, according to the company's regulatory filing. iQiyi is expected to list on the NASDAQ under the ticker IQ.
Baidu is seeking to raise $1.5 billion through the iQiyi IPO. iQiyi, the online video platform that Baidu started in 2010, has features of both Netflix (NFLX) and Google's (GOOGL) YouTube.
Article continues below advertisement
Paid and ad-supported video services
Like Netflix, iQiyi runs an on-demand video service offered on a paid subscription basis. It has attracted more than 50 million paying subscribers. Netflix boasts over 100 million paying subscribers globally.
Like YouTube, iQiyi runs an ad-supported video service, and it boasts more than 420 million monthly viewers and ~120 million daily viewers. Social media companies Facebook (FB) and Snap (SNAP) serve more than 1.4 billion and 187 million daily users, respectively, according to their latest quarterly reports. Facebook and Snap also have interests in the online video business. Snap is backed by Baidu's rival Tencent (TCEHY).
Baidu to keep control of iQiyi after IPO
In China, Baidu's domestic market, iQiyi is the leading subscription-based online video service according to eMarketer estimates. It served 69.9% of China's online video subscribers in 2017, compared to 63% for Tencent's Tencent Video and 50.3% for Alibaba's (BABA) Youku Tudou.
Baidu is the largest investor in iQiyi, owning 69.6% of the business. Chinese smartphone maker Xiaomi owns 8.4% of iQiyi. Baidu intends to keep control of iQiyi even after the IPO.