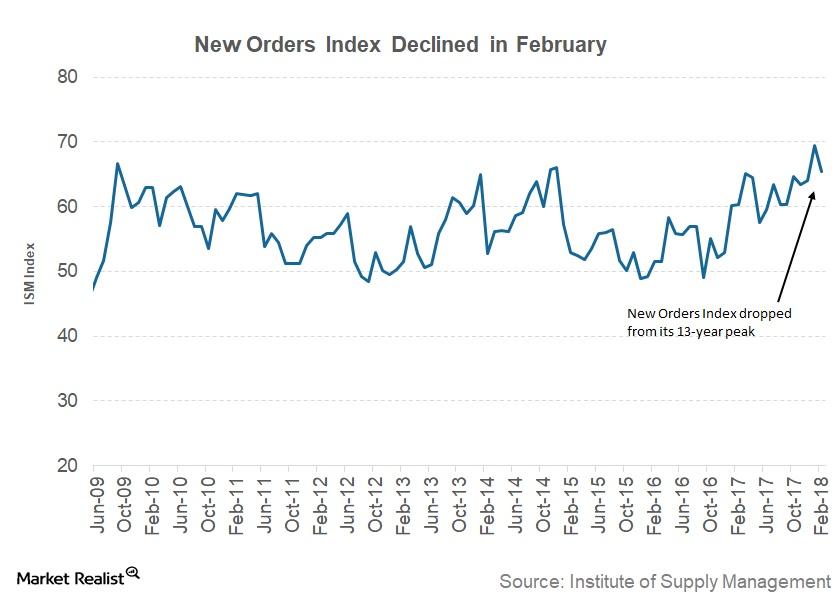 What to Make of the January Decline in ISM New Orders Index
By Ricky Cove

Mar. 2 2018, Updated 2:35 p.m. ET
ISM New Order Index
The ISM (Institute of Supply Management) publishes a monthly manufacturing report that tracks the changes in new orders, supplier deliveries, inventories, production, and employment. A monthly survey is conducted with inputs from 400 industries (XLI) from across the US.
This ISM New Order Index is a diffusion index, and the respondents are asked to rate the conditions of their industry (VIS) as either good or bad. The ISM manufacturing report has 11 constituent indexes, and the New Order Index is one of the key ones.
New orders for any industry (RGI) is a forward indicator of future demand, and so this economic indicator finds its place in the Conference Board's LEI (Leading Economic Index) economic model. The ISM New Orders index has an overall weight of ~15.9% in the Conference Board's LEI.
Article continues below advertisement
Recent data release
The ISM New Order Index for the month of January was reported at 65.4—a sharp decline from the 13-year high of 69.4 reported in December. But the decline in the ISM New Order Index should not necessarily be a reason to worry because this is still the second-best reading in the past 12 months.
The ISM New Order Index had a net positive impact of 0.20 (or 20%) on the leading economic index. Any reading above 50 for the index is considered to have a positive impact on the LEI, as it suggests an expansion in the sector.
Impact of ISM Index on markets
The ISM index is reported in the first week of each month, and a positive reading improves overall market optimism. A reading close to 50 or below rings alarm bells for markets (ITOT)—an event that has happened only twice in the past two years. The current economic climate and reduced taxes could further increase the optimism of manufactures (FIDU) and could lead to a further increase in the index in the months ahead.
In the next part of this series, we'll discuss the rebound in new orders for non-defense and capital goods.