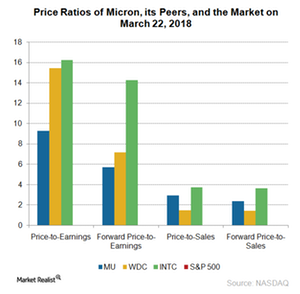 What Micron's Market Capitalization Tells Us
By Puja Tayal

Mar. 29 2018, Updated 9:00 a.m. ET
Micron's growth momentum
In this series, we've discussed how Micron Technology (MU) has continued its 2017 growth momentum in 2018 thanks to rising DRAM (dynamic random access memory) prices and constrained supplies. There was a lot of trading activity ahead of its 2Q18 earnings announcement. The company reported yet another quarter of strong double-digit revenue growth, beating analysts' expectations.
Article continues below advertisement
Volatility
Micron continues to be a highly volatile stock due to the cyclical nature of its business, and this volatility is visible in the stock's high beta. Micron has a beta of 1.6, which is lower than NVIDIA's (NVDA) 1.7 but higher than Intel's (INTC) and Western Digital's (WDC) betas of 1.3 and 1.2, respectively.
Remember, beta is a measure of volatility, where the market's volatility is measured as one. A beta lower than one is less volatile, and a beta higher than one is more volatile.
None of the three abovementioned stocks are true comparisons for Micron, as it is the only pure-play memory manufacturer in the United States. We compared Micron with NVIDIA because its revenue and earnings are growing by the double and triple digits, respectively, and we compared Micron with Intel and WDC because they both manufacture NAND (negative AND).
Article continues below advertisement
Market capitalization
At the end of March 22, 2018, Micron had a market capitalization of $70.6 billion, which is 2.5x its projected calendar 2018 revenue of $28.7 billion. Its market capitalization-to-revenue ratio is higher than Western Digital's ratio of 1.5x but lower than Intel's ratio of 3.7x.
The above metrics show that investors are less optimistic about Micron's revenue growth potential despite it reporting YoY (year-over-year) revenue growth of over 50% for the past five quarters. This reduced optimism is due to skepticism regarding when the memory market uptrend could end and revenue could fall.
However, investors have now realized that this growth trend seems to be here to stay—at least for 2018—boosting Micron stock by 50% this year. However, the stock's valuation shows that it is slightly expensive based on the company's revenue but cheap based on its earnings. A company's strong earnings being backed by strong sales suggests its overall health is good. Whether Micron can improve its revenue as memory prices fall remains to be seen.