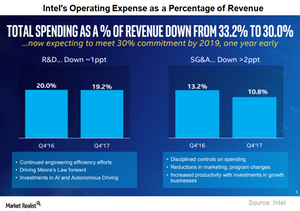 What Makes Intel the Largest R&D Spender in the Semiconductor Industry?
By Puja Tayal

Mar. 14 2018, Updated 7:30 a.m. ET
Operating expenses
As we witness the fourth technology shift toward AI (artificial intelligence) and IoT (Internet of things), the overall semiconductor industry has increased its R&D (research and development) spending. According to a report by IC Insights, the top ten R&D spenders increased their spending 6% YoY (year-over-year) in 2017, but no one could beat Intel (INTC).
Article continues below advertisement
R&D spending
Intel spent $13.1 billion in R&D in 2017, which was 3% higher YoY (year-over-year). The second-largest spender, Qualcomm (QCOM), spent ~$3.5 billion in R&D, representing just one-quarter of Intel's R&D spending.
Qualcomm is spending on 5G technology and mobile and server processors. TSMC (TSM) spent ~$2.7 billion in R&D in 2017, as it moves to the 12 nm (nanometer) and 7 nm nodes.
NVIDIA (NVDA) and Micron (MU) spent $1.8 billion apiece on R&D in 2017. NVIDIA is spending on GPU (graphics processing unit) technology for AI (artificial intelligence) and autonomous driving applications. Micron is investing in smaller size 3D NAND (negative AND) and DRAM (dynamic random access memory) chips and 3D XPoint. Together the four companies spent $9.7 billion in R&D in 2017.
Intel has allocated its R&D on all the above products. It is investing in 5G technology, AI chips, autonomous vehicles, 3D NAND and 3D XPoint, and the 10 nm node. At the end of 2017, Intel also hired Advanced Micro Devices' (AMD) Raja Koduri to develop its GPUs, further adding to its R&D expenses. Intel also decided to discontinue its 12-year long partnership with Micron, which will likely increase the former's spending on memory chips.
Article continues below advertisement
Operating expense ratio
It wouldn't be accurate to look at these R&D budgets, however, in dollar terms, because there's a vast difference in the size of these companies. For this reason, we have to look at R&D spending as a percentage of total revenues. But even then, Intel spent 20.9% of its revenues on R&D in 2017—the second-highest after Mediatek, which spent 24% of its total revenues on R&D.
Intel reduced its R&D spending as a percentage of revenues from 21.45% in 2016 to 20.9% in 2017, while its MG&A (marketing, general, and administrative) spending went from 14% to 12%. Its overall operating expenses as a percentage of total revenues fell from 35.4% in 2016 to 32.6% in 2017, and Intel aims to reduce this to 30% by 2020.
In 2017, Intel reduced its operating expense ratio from 36.5% in 1Q17 to 29.8% in 4Q17 by rationalizing its marketing and sales program and investing in key priorities. The company aims to fund its increasing R&D efforts by improving its operational efficiencies in MG&A. This is possible as the company becomes more business-to-business.
Next, we'll look at Intel's operating and net income.