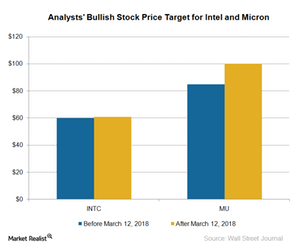 What Made Analysts Bullish on Micron?
By Puja Tayal

Mar. 27 2018, Updated 5:15 p.m. ET
Analyst price target
Micron Technology's (MU) stock price rally gained speed in calendar 1Q18, despite it being a weak quarter for the company and one of the months in the quarter bringing a global market sell-off. The stock gained largely due to analysts' bullish ratings and their 12-month price targets for the stock being raised by up to 50%.
Many analysts have raised their price targets for Micron at least twice in just three months. On March 12 and 13, 2018, three analysts raised their price targets for Micron. Instinet's Romit Shah almost doubled his target from $55 to $100, Evercore ISI's C.J. Muse raised his target from $60 to $80, and Mizuho's Vijay Rakesh raised his target from $55 to $66.
Article continues below advertisement
These changes raised Micron's consensus price target from $60 to $62, and bullish target from $85 to $100. Analysts' upgraded targets boosted Micron stock by about 9%. In comparison, Intel's (INTC) consensus price target increased from $53.50 to $55, and its bullish target increased from $60 to $61.
Nomura Instinet's bullish comments on Micron
According to CNBC, Nomura Instinet analyst Romit Shah stated in a research note that Micron stock is in the "early stages of another major breakout." He expects the stock to jump another 82% in 2018 after rising almost 88% in 2017. He is bullish on the chipmaker due to two growth catalysts—the first being the rising demand for DRAM (dynamic random-access memory) and NAND (negative AND), and the second being an expected capital return program.
Article continues below advertisement
A NASDAQ article, citing Romit Shah's research note, reported that memory prices fell only 3% in 1Q18, way below the seasonal first-quarter decline of 10%–20% reported in the last three years. Looking at memory suppliers' plans, he expects them to increase prices by 10% over the next two quarters. He stated that even a 5% change in DRAM prices could impact Micron's annual revenue by $1 billion and earnings per share by $0.70.
His expectations contrast with Wall Street expectations of a 5%–6% sequential decline in memory prices in each of the coming four quarters. Shah also believes that the strong earnings could pave the way for a first-time capital returns program for Micron. The company has never paid a dividend or repurchased shares due to the highly cyclical nature of its business. He expects the company to announce its first dividend at its analyst day in May 2018. A capital return program shows management's confidence in generating positive cash flow in the future. Next, we'll look at other growth catalysts that have made analysts bullish on Micron.