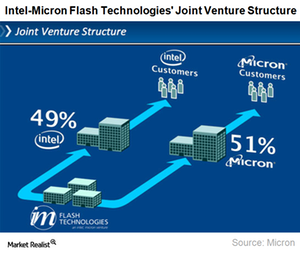 What Intel Has Planned for Its Memory Business in 2018
Intel-Micron partnership
After Intel (INTC) re-entered the memory market in 2015 by converting its China (MCHI) facility into a memory plant, it now competes directly with its memory partner, Micron Technology (MU). Therefore, it was expected that the two might terminate their partnership. In January 2018, Intel officially terminated the partnership, under which the two companies developed 32-layer and 64-layer 3D NAND.
This partnership termination raises questions about what could happen to the existing projects. The two companies plan to continue their project as partners until 2019. They aim to ramp up production of 64-layer 3D NAND, and start production of third-generation 3D NAND by the end of 2018 and ramp up its production in 2019. Post-2019, the two could design their own 3D NAND technology roadmaps according to their own business needs. However, they plan to continue to share the Utah facility they built under the partnership to manufacture 3D XPoint products, and are open to collaborating on other projects should the opportunity arise.
Article continues below advertisement
Memory is a capital-intensive market, and Intel's decision to separate from Micron could bring additional capital spending for Intel. During Intel's fiscal 4Q17 earnings call, CEO Brian Krzanich stated that the company would review the memory business every year to see whether there is sufficient demand and if customers are willing to prepay to reserve capacity. The company would then put in place that much capacity, avoiding extra capital for memory capacity.
Intel signs long-term supply agreements
Intel has signed supply agreements with some customers and expects to receive $2 billion in prepayments from them throughout 2018. Intel plans to spend $2.5 billion on memory, of which $2 billion would come from prepayments. Therefore, the growth of Intel's memory business could depend on the adoption of its memory technology by customers.
Speaking of adoption of memory technology, China is a prime market, as it has been looking to develop and manufacture its own memory chips but lacks the technology. Intel's expansion of its memory plant in China and termination of its partnership with Micron, which China's Tsinghua Unigroup tried to acquire in 2015 but failed, has set the rumor mill running over a possible collaboration between Intel and China. We'll look into this rumor further in the next part.