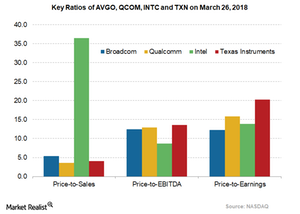 What Broadcom's Price Ratios Say about Its Valuation
By Sophia Nicholson

Mar. 29 2018, Updated 7:33 a.m. ET
Broadcom's price ratios
Broadcom (AVGO) stock has gained a lot of attention recently due to its mega-acquisition deal with Qualcomm, which was blocked by Donald Trump due to national security risks. News on the deal has significantly influenced investor sentiment. The stock was trading at $247.73 on March 26.
The stock's current price volatility may concern short-term investors. However, for long-term investors, the stock's fair valuation is more important. A company's price ratios help us understand its actual valuation.
Article continues below advertisement
Price-to-sales ratio
On March 26, 2018, Broadcom had a PS (price-to-sales) ratio of 5.3x, higher than Qualcomm's (QCOM) and Intel's (INTC) PS ratios of ~3.6x and ~3.7x, respectively. Texas Instruments' (TXN) PS ratio is ~6.7x. A company's PS ratio tells us the price investors are willing to pay for every dollar of the company's sales.
Price-to-earnings ratios
A company's price-to-EBIDTA (earnings before interest, tax, depreciation, and amortization) ratio shows the outcome of its operating decisions. Broadcom has a price-to-EBITDA ratio of 12.4x, whereas Qualcomm, Texas Instruments, and Intel have ratios of 12.9x, 13.6x, and ~8.7x, respectively.
EPS (earnings per share) represent the amount directly available to shareholders after deducting all expenses. Therefore, PE (price-to-earnings) ratios may offer the clearest understanding of the value of a share. Broadcom has a current PE ratio of 12.2x, which is lower than Qualcomm's, Texas Instruments', and Intel's PE ratios of 15.8x, 20.3x, and 13.9x, respectively. Broadcom's PE ratio indicates that it is undervalued compared with peers.