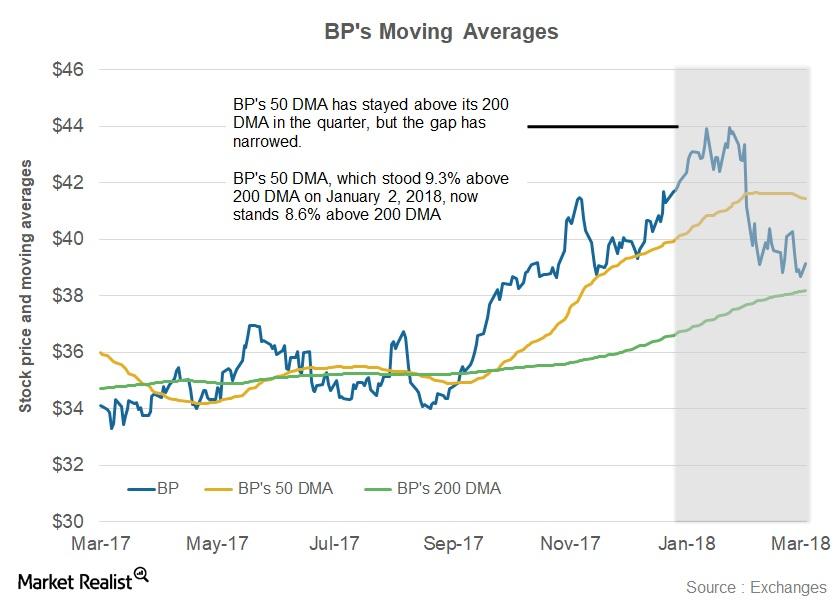 What BP's Moving Averages Indicate
By Maitali Ramkumar

Mar. 7 2018, Updated 9:45 a.m. ET
BP's moving averages in the past four quarters
In 1Q17, BP's 50-day moving average (or DMA) broke below its 200 DMA. Nevertheless, in the second quarter, BP's 50 DMA crossed over its 200 DMA. BP reported its 1Q17 earnings, which surpassed estimates. Also, BP reported the start-up of two of its major upstream projects, West Nile Delta and Quad 204.
In 3Q17, likely due to Hurricane Harvey, oil prices declined, presumably pressuring BP stock, which led its 50 DMA to break below its 200 DMA. As the effects of the hurricane started to wane, oil prices started rising, likely supporting the stock. BP's 50 DMA again crossed over its 200 DMA at the end of 3Q17. In 4Q17, BP's 50 DMA surged as the stock rose likely due to upstream project updates and 3Q17 numbers, which exceeded analysts' estimates.
Article continues below advertisement
BP's moving averages in 1Q18
During this quarter, BP released its 4Q17 earnings. BP surpassed its earnings estimates for 4Q17, as its upstream earnings rose year-over-year. However, weaker broader markets and lower oil prices in February, as discussed in the previous part, presumably led to the decline in BP stock. Thus, the fall in BP stock led to a narrowing of the gap between its 50 DMA and 200 DMA, which is not a favorable sign.
BP's 50 DMA, which stood 9.3% above its 200 DMA at the start of 1Q18, on January 2, 2018, now stands 8.6% above its 200 DMA.
Peers' moving averages
Total (TOT) and Statoil's (STO) 50 DMAs stand 5.9% and 14.1%, respectively, above their 200 DMAs. Furthermore, Petrobras's (PBR) 50 DMA stands 22.1% above its 200 DMA.
Now let's look at the moving averages of the broader market, represented by the SPDR Dow Jones Industrial Average ETF (DIA) and the SPDR S&P 500 ETF (SPY). These ETFs broadly represent the overall economy. DIA and SPY's 50 DMAs are at 9.4% and 6.7%, respectively, above their 200 DMAs.
In the next part, we'll estimate BP's stock price range until June 29, 2018.