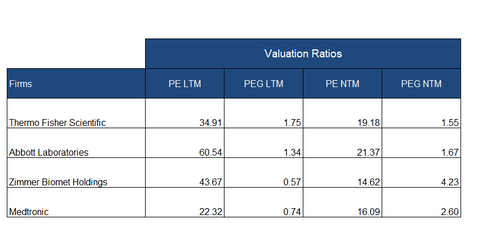 What Are Thermo Fisher Scientific's Current Valuations?
By Sarah Collins

Updated
TMO's forward valuation multiple
As of March 15, 2018, Thermo Fisher Scientific (TMO) was trading at a forward PE (price-to-earnings) ratio of 19.2x. The stock has a current PE ratio of 34.9x. The lower forward estimate represents higher company earnings expectations from analysts over the next 12 months.
For the calculation of the forward PE multiple of a company, the company's current stock price is divided by the next 12-month earnings estimates for the company. The multiple is an estimate of the potential growth of the company over the next 12 months. If a company has a high forward PE multiple, it might be overvalued.
As of March 15, 2018, Thermo Fisher Scientific's peers Medtronic (MDT), Zimmer Biomet Holdings (ZBH), and Abbott Laboratories (ABT) have forward PE ratios of 16.1x, 14.6x, and 21.4x, respectively, and forward PEG ratios of 2.6x, 4.2x, and 1.7x, respectively.
Article continues below advertisement
PEG ratio
For a valuation multiple that is more comparable to other companies with different growth profiles, investors can look at the PEG (price-to-earnings-growth) ratio. The multiple provides a growth-adjusted valuation metric and can be used to compare companies across different industries. If a company has a lower PEG ratio, it is likely to be undervalued. As of March 15, 2018, Thermo Fisher Scientific has a next-12-month PEG ratio of 1.55x.
Thermo Fisher Scientific has seen improving valuation multiples over the recent period as the company is expected to register high earnings and a strong performance going forward. The company has entered into a number of strategic collaborations and partnerships recently and launched a number of new products. Its strong fundamentals and strategic expansion are expected to improve the company's valuation going forward.