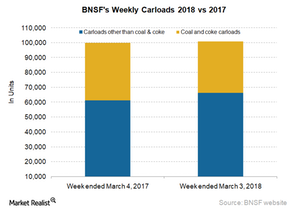 Week 9: BNSF Railway Lagged behind Rival UNP in Freight Growth
By Samuel Prince

Mar. 14 2018, Updated 12:40 p.m. ET
BNSF Railway's Week 9 carload traffic
In the week ended March 3, 2018, Berkshire Hathaway–owned BNSF Railway (BRK.B) posted a minor 0.8% carload traffic gain compared to the week ended March 4, 2017.
In 2018, BNSF Railway hauled ~100,800 railcars excluding intermodal compared to ~100,000 railcars in the ninth week of 2017. Compared to this Omaha-headquartered Class I railroad company, competitor Union Pacific (UNP) registered a 4.9% rise in carload traffic. BNSF Railway's carload growth was lower than the rise posted by US railroad companies (XLI) overall.
Article continues below advertisement
Among all the Class I railroad companies (NSC) in the United States, BNSF Railway has the highest share of coal in its total carload traffic. Other than coal and coke carloads along with coal and coke carloads made up 66% and 34%, respectively, of overall carloads. In last year's Week 9, they made up 61% and 39%, respectively, of overall carloads.
While carloads excluding coal and coke expanded 8%, coal and coke carloads shrank 10.7% in the reported week. BNSF hauled over 66,100 carloads sans coal and coke. Its coal and coke carloads totaled 34,600 units.
Ups and downs in carload commodity groups
The following carload commodity groups saw increased volumes:
chemicals
motor vehicles
metallic ore
metals
petroleum
The following carload commodity groups saw volumes tank:
grain
food
pulp and paper products
grain mill products
BNSF's intermodal traffic
In the ninth week of 2018, BNSF Railway posted a 12.8% rise in intermodal traffic. From ~94,400 trailers and containers in the last year, the railroad moved 106,500 units in Week 9 of 2018. Container volumes were up 11.5% to ~93,300 units, whereas trailer traffic was up 23.6%, crossing 13,200 units. Containers accounted for 87.6% of BNSF's total intermodal mix, while trailers contributed the remaining 12.4%.
In Week 9, BNSF Railway posted a 6.6% gain in railcar traffic. This gain was slightly higher than the 5.8% rise recorded by US railroad companies (GWR) in the week.