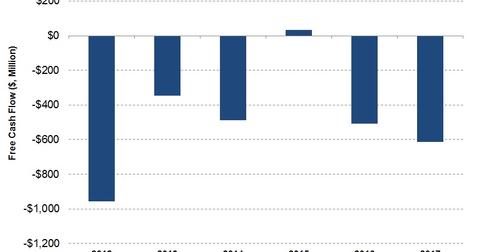 Weatherford's Free Cash Flow Projection for 2018
By Alex Chamberlin

Mar. 29 2018, Published 2:44 p.m. ET
Weatherford's operating cash flows
Weatherford International's (WFT) cash from operating activities (or CFO) in 2017 was negative, and it deteriorated from 2016. WFT's CFO was a -$388 million in 2017, compared to -$304 million a year ago.
Article continues below advertisement
Weatherford's free cash flow
WFT's capital expenditure (or capex) increased 10% from 2016 to 2017 due to higher anticipated activity in the oil and gas industry related to greater volumes of work and an increased rig count. Negative CFO, coupled with a rise in capex, meant WFT's free cash flow (or FCF) decreased deeper into negative territory in 2017. In 2017, WFT's FCF was -$613 million, compared to -$508 million FCF a year ago. WFT's FCF has been negative in five of the past six years.
In comparison, ION Geophysical Corporation's (IO) FCF was $26.9 million in 2017. It was an improvement compared to the less than $1 million FCF in 2016. In 2017, IO's CFO improved sharply versus 2016, which resulted in an FCF improvement in 2017.
Weatherford's capex plans
Weatherford plans to keep its 2018 capex budget at $200 million to $250 million, compared to $225 million in capex in 2017. The 2018 capex is expected to depend on the type of contracts and anticipated activity in the oil and gas industry.
WFT's FCF outlook
WFT's management expects cash flow for 1Q18 to be negatively impacted by seasonally lower collections, higher interest in tax payments, and increased capital expenditures. For 2018 as a whole, it expects FCF to improve and achieve cash flow neutrality.
Next in this series, we'll discuss Tenaris's (TS) cash flow and capex.