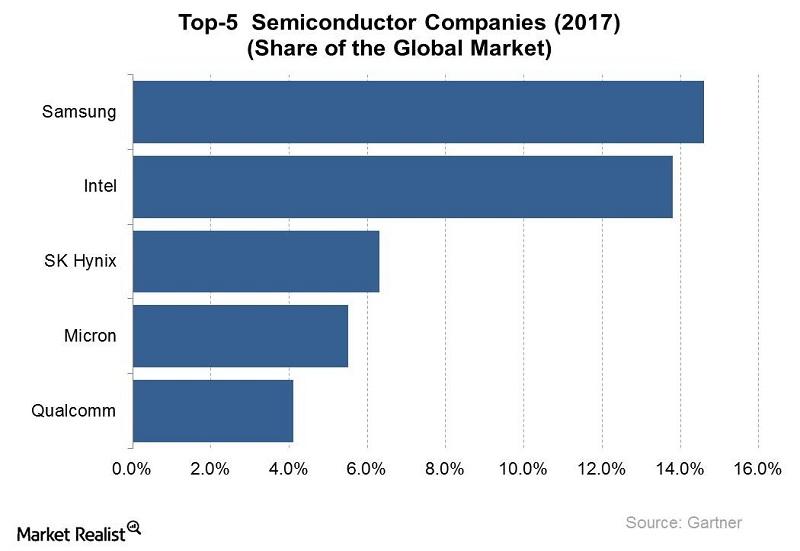 Understanding Samsung's Rise as a Top Semiconductor Company
By Ruchi Gupta

Mar. 10 2018, Updated 11:21 p.m. ET
Samsung made $66 billion in chip sales
Samsung (SSNLF) toppled Intel (INTC) to become the world's largest chipmaker in 2017, according to the companies' earnings reports and a research study.
Intel, which sells semiconductor components for computers, data centers, and a range of other devices, generated $62.8 billion in revenues in 2017. Samsung generated $66.0 billion in revenues in its semiconductor division alone in 2017. 
With that, Samsung took the crown from Intel as the world's top semiconductor company by revenue. Samsung is a South Korean conglomerate that manufactures smartphones, television sets, and semiconductor components for smartphones and other electronic devices. 
Article continues below advertisement
Samsung claimed 14.6% of the chip market in 2017
In terms of market share, Gartner estimates that Samsung commanded 14.6% of the global chip market, compared to 13.8% for Intel. SK Hynix, Micron (MU), and Qualcomm (QCOM) rounded out the chart of the top five semiconductor companies in 2017. 
Broadcom (AVGO), which ranked as the sixth-largest semiconductor company in 2017, is seeking to acquire Qualcomm. Intel had been the top semiconductor company for more than two decades.
Strong demand for memory
The rise of Samsung to the top semiconductor company in 2017 was supported by strong demand for memory products. Rising prices of memory products also supported the growth of the memory market.
The global memory market expanded 64.0% in 2017, leading to memory product sales, comprising 31.0% of the year's total semiconductor revenues. Although Intel had been the top semiconductor company overall since 1992, Samsung has been leading in the memory market. As a result, the strong demand for memory products in 2017 played to Samsung's strengths.