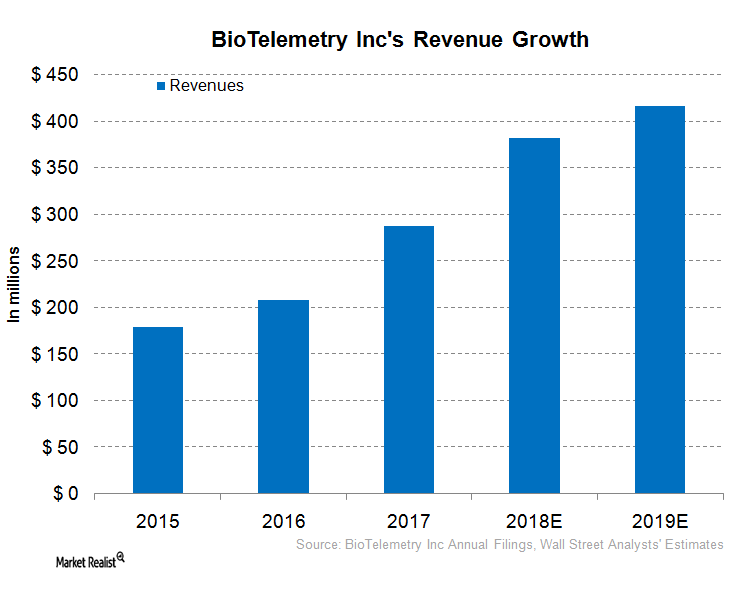 Understanding BioTelemetry's Business Strategy
By Kenneth Smith

Mar. 6 2018, Updated 2:27 p.m. ET
Business strategy
BioTelemetry's (BEAT) business strategy is to solidify its position as a leading provider of outpatient cardiac monitoring services, expand in the research market, and leverage its monitoring platform in new markets. In this part of the series, we'll look at the key elements of this business strategy.
Article continues below advertisement
Increasing demand for cardiac monitoring solutions
In order to increase the demand for its portfolio of outpatient cardiac monitoring solutions, BioTelemetry is focusing on educating cardiologists, electrophysiologists, and neurologists on the benefits of using mobile cardiac telemetry for arrhythmia monitoring while stressing the increased diagnostic yield and ability to deliver more effective treatments.
Expansion in the research market
BioTelemetry has grown in the research market through strategic acquisitions. It entered the core lab services business by acquiring Agility Centralized Research Services in 2010. With the acquisition of Cardiocore Lab in 2012 and RadCore Lab in 2014, BioTelemetry expanded its presence in clinical research.
In 2016, BioTelemetry further expanded its core lab expertise with the acquisition of VirtualScopics, a provider of clinical trial imaging solutions.
Article continues below advertisement
Growth in new market opportunities
BioTelemetry intends to expand into new market areas that require outpatient or ambulatory monitoring and management. In line with this goal, it acquired Telcare. The acquisition helped BioTelemetry expand in the rapidly growing digital population health management market.
Revenue forecast
In fiscal 2018, BioTelemetry is expected to report revenues of $381.1 million, signifying a growth of 32.9% over fiscal 2017. In comparison, Cerner (CERN), Cross Country Healthcare (CCRN), and Illumina (ILMN) are expected to report revenues of $5.5 billion, $882.1 million, and $3.1 billion, respectively, in fiscal 2018.
In the next part of this series, we'll take a look at BioTelemetry's financial performance.