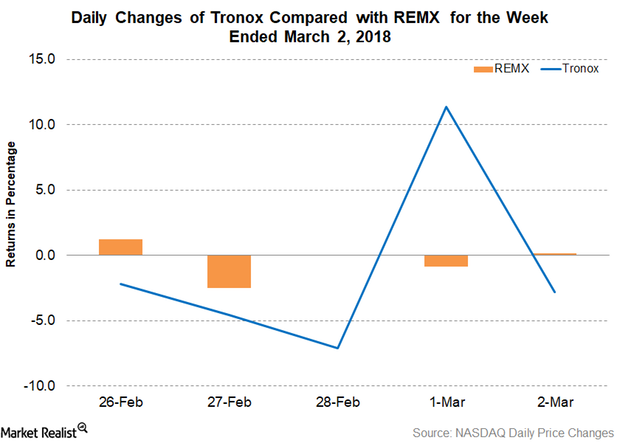 Tronox Extends Acquisition Agreement with Cristal
By Peter Neil

Mar. 5 2018, Updated 8:05 a.m. ET
Tronox extends acquisition agreement
Faced with regulatory approvals, on March 1, 2018, Tronox (TROX) announced that it agreed to extend the deadline related to the acquisition of Cristal's titanium dioxide business headquartered in Jeddah, Saudi Arabia. According to the agreement, the dates were extended from May 21, 2018, to June 30, 2018. The companies also agreed that a three-month automatic extension will be applied until March 31, 2019, depending on outstanding regulatory approvals.
Article continues below advertisement
There isn't a termination fee involved with extending the agreement. Tronox has the right to terminate the agreement if the regulatory approval won't be obtained before January 1, 2019. Tronox won't pay a termination fee. However, Tronox would have to pay a termination fee of $60 million if it doesn't honor the agreement on or before March 31, 2019, if regulatory approval isn't obtained. The termination fee is applicable if Tronox breaks the agreement after December 31, 2018.
Saudi Arabia's General Authority of Competition approved the acquisition along with Australia, China, New Zealand, Turkey, South Korea, and Colombia.
Jeffry N. Quinn, Tronox's president and CEO, said, "The extension reflects the commitment of Tronox, Cristal, and its parent company, Tasnee, to this transaction. Although we do not anticipate needing the full extension to consummate the transaction, the amendment provides adequate time to optimize the outcome for the benefit of our collective stakeholders—our shareholders, customers and employees."
Update on Tronox's stock price
Tronox declined 6.10% and closed at $19.79. The stock recovered from the low of $18.28. As a result, the stock traded 12.90% lower than the 100-day moving average price of $22.72, which indicates weakness in the stock. On a year-to-date basis, the stock has declined 5.6%. Chemours (CC), FMC (FMC), and W.R. Grace (GRA) declined 1.8%, 15.9%, and 7.7%, respectively. However, Tronox's 14-day relative strength index of 49 indicates that the stock isn't overbought or oversold.
Investors can hold Tronox indirectly by investing in the Rare Earth/Strategic Metals ETF (REMX). REMX has invested 5.5% of its portfolio in Tronox as of March 2, 2018.