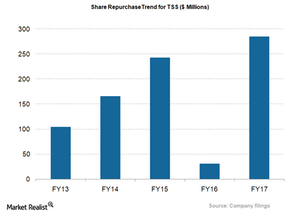 Total System Services Drove Share Repurchases in Fiscal 2017
By Aaron Hemsworth

Mar. 9 2018, Updated 7:30 a.m. ET
Share repurchase trend
In fiscal 2017, Total System Services (TSS) repurchased nearly $284.0 million in shares compared to just $30.3 million bought in fiscal 2016. In the last five years, the company bought nearly $826.0 million shares at an average of $165.0 million per year.
In the graph above, we can see Total System Services' share repurchase trend in the last five years. Except for 2016, the company maintained an increasing trend in share repurchases. In fiscal 2017, the company repurchased ~3.9 million shares.
In order to boost its share repurchase program in January 2015, the company's board of directors authorized a new stock buyback plan to purchase up to 20.0 million shares. To date, the company still has 10.0 million shares to be repurchased under this buyback program, which has no expiration date.
Article continues below advertisement
Factors driving share repurchases
Total System Services (TSS) has maintained a healthy free cash flow trend over the years. The payment solution company exited 2017 with free cash flow of $660.5 million, compared with $575.5 million in 2016. 
In the last five years, the company maintained an average free cash flow of nearly $474.0 million, which is above the total share buyback made each year. This indicates that the company isn't dependent on debt to finance its buyback program.
The company's long-term debt stood at $2.6 billion in fiscal 2017, down from $3.3 billion in fiscal 2016. This declining leverage, coupled with the recent US tax reforms, could benefit the company and allow it to boost its future share repurchase goal.