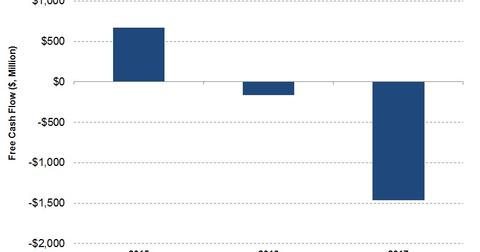 The Lowest Oilfield Services Free Cash Earner in 2017
By Alex Chamberlin

Updated
Baker Hughes's operating cash flows
Baker Hughes, a GE Company's (BHGE), cash from operating activities (or CFO) was negative in 2017 and declined sharply from 2016. BHGE generated -$799 million in CFO in 2017. Despite a significant increase in revenues in the past year, adverse changes in working capital primarily led to the CFO deteriorating in 2017. Revenues and operating cash flows for BHGE, on a combined and consolidated basis, take into account Baker Hughes's merger with GE's Oil & Gas business.
Article continues below advertisement
Baker Hughes's free cash flow and capex
BHGE's capital expenditure (or capex) increased ~57% in 2017 over 2016. Negative CFO, coupled with rising capex, resulted in free cash flow (or FCF) staying negative and deteriorating in 2017 versus 2016. Baker Hughes's FCF was -$1.46 billion in 2017, and it had been negative in two of the past three years. BHGE is 0.51% of the iShares Global Energy ETF (IXC). IXC tracks an index composed of global equities in the energy sector. The oil and gas equipment and services sector accounts for 7.4% of IXC. IXC increased 3% in the past year, compared to a 29% fall in BHGE's stock price during the period.
In comparison, BHGE's lower-market-cap OFS industry peer, Superior Energy Services, (SPN) saw 2017 FCF of -$61.1 million, which was a deterioration from the previous year. In 2016, SPN's FCF was -$19.3 million. Although SPN's CFO increased in 2017 versus 2016, its capex increased more sharply, which led to the FCF decline in 2017.
BHGE's capex and cash flow plans for 2018
In 2018, BHGE plans to incur capex at a rate of 5% of its annual revenue. In 2017, BHGE's annual capex was ~4% of its annual revenues. With regard to cash flows, BHGE's management believes its changes in its receivable management program will allow it to save on interest costs and improve its operating cash flow performances in 2018.
Next in this series, we'll discuss Weatherford International's (WFT) cash flow and capex.