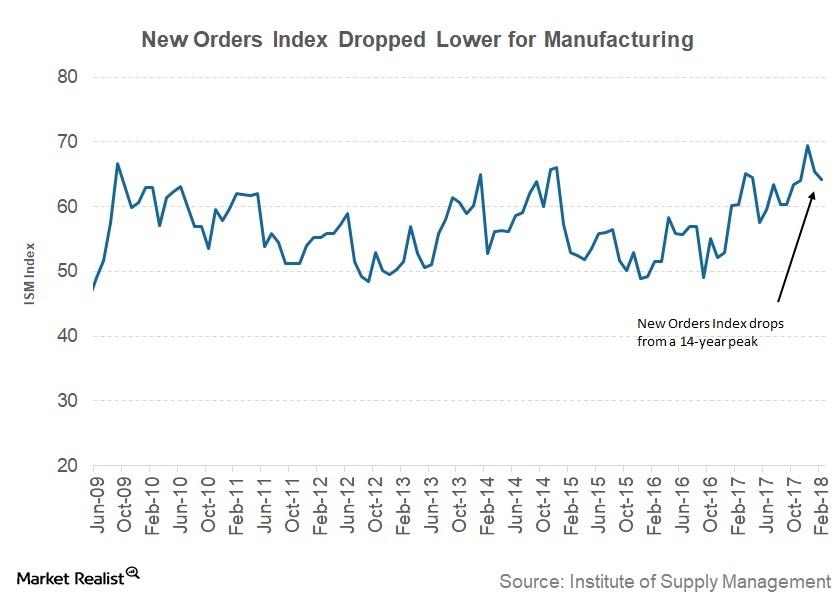 The Continued Decline in the ISM New Orders Index
By Ricky Cove

Mar. 30 2018, Updated 3:35 p.m. ET
ISM New Order Index
The Institute of Supply Management (or ISM) publishes a monthly manufacturing report on changes in new orders, supplier deliveries, inventories, production, and employment. The ISM New Order Index is a diffusion index that is based on a monthly survey involving 400 industries (XLI) from the US.
Participants of the survey rate the conditions for their respective industries (VIS). The responses to the questions are binary—either good or bad. The ISM manufacturing report has 11 constituent indexes, including the New Order Index.
New orders for any industry (RGI) signal future demand, making this indicator an important component of the LEI economic model. The ISM New Orders Index has an overall weight of ~15.9% on the Conference Board Leading Economic Index.
Article continues below advertisement
Recent data release
The ISM New Order Index for February was reported at 64.2, posting a second monthly decline. However, the index remained close to its 13-year peak of 67.4 reported in December 2017.
Any reading above 50 is positive for this forward indicator, and this reading had a net positive impact of 0.18 (or 18.0%) on the February LEI.
Impact of the ISM Index on the markets
The ISM Index is one of the first indicators to be reported each month and usually sets the tone for the market's performance for the rest of the month. This indicator didn't have a major bearing on the US indexes (ITOT) in the last two months, as investors were focused on tariffs, trade wars, and raising taxes.
In the medium term, the benefits of these tax cuts could be neutralized by any retaliatory tariffs from the trading partners of the US. In the next part of this series, we'll discuss the continued rebound in new orders for nondefense and capital goods.