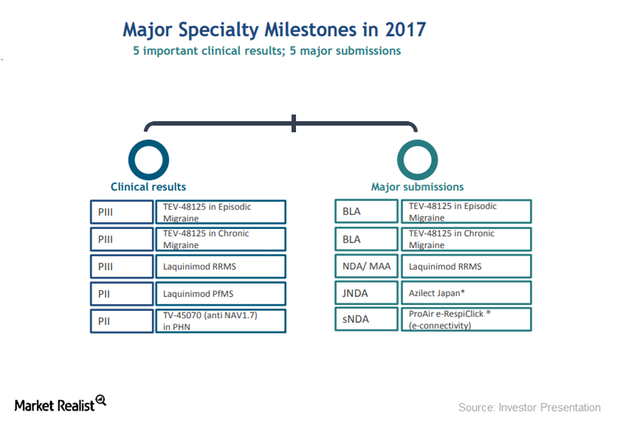 Teva Terminates TV-45070 Development Agreement with Xenon
By Sarah Collins

Mar. 21 2018, Updated 4:00 p.m. ET
Agreement termination announcement
On March 7, 2018, Teva Pharmaceutical (TEVA) with Teva Canada and Xenon Pharmaceuticals (XENE) entered into a mutual agreement to terminate the collaborative development and license agreement they entered into in 2012 for the pain drug TV-45070.
During Xenon Pharmaceuticals' 2017 earnings results release, it announced the agreement termination news. On the day, TEVA stock rose ~0.8%, while Xenon stock rose ~7%. Currently, Amgen (AMGN) is developing a competing drug from tarantula venom. Roche Holding (RHHBY) is also developing two similar molecules, which have already passed Phase 1 clinical trials.
Article continues below advertisement
Why was the agreement terminated?
Teva Pharmaceutical stated that it was no longer interested in the development of TV-45070. The product is undergoing a Phase 2 study trial. In June 2017, the top line results of its Phase 2 study of the topical use of TV-45070 in PHN (post-herpetic neuralgia) patients failed to meet the primary or secondary endpoints. Teva's major clinical trial results and submissions are shown in the diagram above.
Terms of agreement
As per the termination agreement, Teva Pharmaceutical will transfer and assign 1,000,000 Xenon common shares that are currently held by Teva Canada to Xenon. Xenon will cancel these shares, and after the transaction, Teva will have 1,000,000 fewer outstanding Xenon common shares, representing a fall of 5.5%. This move will be subject to its receipt of an order from the OSC (Ontario Securities Commission). Additionally, Teva will also return, assign, or license certain IP (intellectual property) and patent rights to Xenon Pharmaceuticals along with any TV-45070 related regulatory filings.
According to the agreement, if Xenon continues the development and commercialization of TV-45070 and gets approval for any products, it will have to pay Teva a low-single-digit percentage royalty based on the net sales of these products.
The agreement is expected to be effective on or about March 22, 2018. Xenon Pharmaceuticals has made an application to the OSC. The agreement will be effective after the company receives the OSC order granting it exemptive relief from issuer bids related to requirements under Canadian securities laws related to the transfer of common shares from Teva to Xenon.
Next, let's discuss the launch of the generic version of Syprine by Teva.