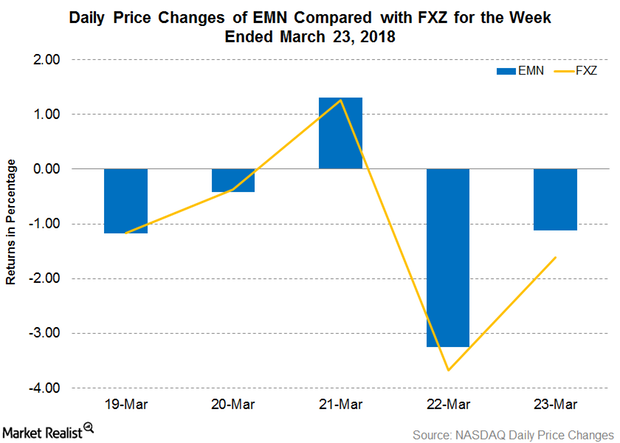 Tetrashield: Eastman Chemical's Game Changer
By Peter Neil

Mar. 26 2018, Updated 8:09 a.m. ET
Eastman Chemical's game changer
On March 19, 2018, Eastman Chemical (EMN) said that it would demonstrate Tetrashield at the upcoming American Coatings Show in Indianapolis on April 10–12. According to Eastman Chemical, Tetrashield provides better weathering, scratch protection, and chemical resistance. Tetrashield also improves productivity.
Tetrashield-based coatings provide protective solutions to different industries like automotive, industrial, and metal packaging. The show in Indianapolis provides Eastman Chemical an opportunity to display its products and scale up its clients. Charles Giaudrone, the general manager of Eastman Coatings' and Inks business, said, "A game-changer like Tetrashield doesn't come along very often in the coatings industry. With Tetrashield, formulators can now develop coatings that address some of the most significant challenges facing their customers such as increasing the durability of automotive coatings, creating high-performing BPA-free food and beverage packaging, and improving the protection of industrial assets."
Article continues below advertisement
Eastman Chemical's stock price
Eastman Chemical's stock price declined 4.6% and closed at $102.80. Despite the big fall, the stock traded 6.2% above the 100-day moving average price of $96.80, which indicates the upward trend in the stock. On a year-to-date basis, Eastman Chemical has gained 11.0%. LyondellBasell (LYB) and Huntsman (HUN) have declined 5.2% and 13.2%, respectively, while Westlake Chemical (WLK) has gained 5.7%. Eastman Chemical's 14-day relative strength index of 46 indicates that the stock isn't overbought or oversold.
Investors could hold Eastman Chemical indirectly by investing in the First Trust Materials AlphaDEX Fund (FXZ), which declined 5.5% for the week. FXZ has invested 3.8% of its portfolio in Eastman Chemical as of March 23, 2018.