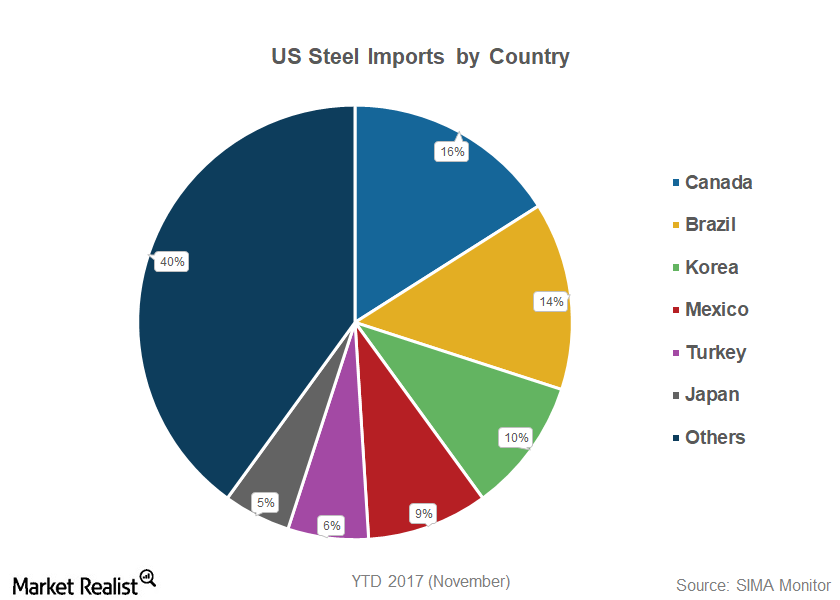 Steel Tariffs: A Bargaining Chip in NAFTA Talks?
By Mohit Oberoi, CFA

Mar. 9 2018, Updated 3:19 p.m. ET
Steel tariffs
President Trump formalized a blanket tariff of 25% on all steel imports and 10% on all aluminum imports. So far, NAFTA (North American Free Trade Agreement) countries have been left out of the stiff duties.
Canada exports the most steel to the US. In the first 11 months of 2017, Canada accounted for 16% of the US steel imports (X) (AKS). Overall, 25% of the US steel imports (MT) came from NAFTA during the same period. Canada is also the largest aluminum exporter to the US. Alcoa (AA) has a smelter in Canada (EWC). Alcoa's response to President Trump's tariff plan has been quite measured. Alcoa requested that President Trump addresses the core issue of China's aluminum overcapacity.
Article continues below advertisement
NAFTA
President Trump has never been a big fan of NAFTA. The agreement came under severe criticism during President Trump's election campaign. Talks to renegotiate NAFTA are currently underway. Meanwhile, President Trump indicated that steel and aluminum tariffs might be used as a bargaining chip in NAFTA talks.
Meanwhile, other NAFTA countries seem to delink the tariffs from the ongoing NAFTA talks. According to Reuters, Mexican Economy Minister Ildefonso Guajardo called the NAFTA talks "independent" of Trump's steel and aluminum tariffs. The report also added that while Canada "welcomed the news it would not immediately be subject to the tariffs but vowed to keep pressing Washington until the threat of tariffs had disappeared."
Next, we'll see whether the tariffs could have the desired impact on US steel and aluminum production.